Photo by: Peter Pšenica (Date: 17.07.2015)
Airline: Transaero [EI-VKO]
Type: Airbus A321-200
Airport: Slovakia, Bratislava (BTS)
Comment: Transaero hat ihren ersten Airbus, einen A321 übernommen, der jetzt in Bratislava vor der Indienststellung die neuen größeren Titel erhält. / Transaero has taken delivery of its first Airbus, an A321, which is receiving now at Bratislava the new bigger titles prior entering service.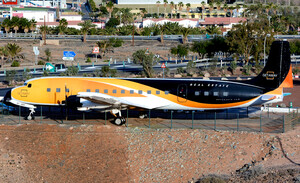 Photo by: José & Alejandro Hernández León (Date: 16.07.2015)
Airline: Binter Canarias [EC-BBT]
Type: Douglas DC-7
Airport: , Spain, Gran Canaria, El Berriel (GCLB) ()
Comment: Binter Canarias hat sich erfreulicherweise der seit Jahrzehnten am El Berriel Flugplatz Gran Canarias abgestellten Douglas DC-7 angenommen und sie teilrestauriert und mit ihrer schicken aktuellen Lackierung versehen. / Binter Canarias has fortunately administered to the needs of this Douglas DC-7 at Gran Canarias's El Berriel airfield, parked there since decades, having been partially restored now and painted with the current smart scheme of the airline.
Photo by: Michael von Roth (Date: 16.07.2015)
Airline: Lufthansa [D-ABVU]
Type: Boeing 747-400
Airport: Germany, Frankfurt/Main (FRA)
Comment: Lufthansa hat diese Boeing 747-400 für eine von Audi organisierte einwöchige Sommerfußballtour durch China mit FC Bayern Aufklebern versehen. / Lufthansa has applied FC Bayern stickers to this Boeing 747-400 for a one-week football summer tour of China, organized by Audi.
Photo by: press (Date: 15.07.2015)
Airline: Let Aircraft Industries [OK-NGA]
Type: Let 410
Airport: , Czech Republic, Kunovice (UHE) ()
Comment: Let Aircraft Industries hat ihre bewährte Let 410UVP-E20 von Grund auf modernisiert. U.a. ist dank einer neuen Flügelstruktur mit integrierten größeren Kraftstofftanks die Reichweite auf 2500 km angewachsen. Seit 1969 wurden bereits über 1.200 Let 410 in alle Welt geliefert. / Let Aircraft Industries has substantially upgraded its well proven Let 410UVP-E20. Among is a new wing structure, with integral fuel tank and increased fuel capacity, enabling a significantly longer maximum range of 2500 km. Since 1969, more than 1,200 Let 410 have been delivered to all five continents.