Photo by: Laurent Greder (Date: 01.07.2015)
Airline: Qatar Amiri Flight [A7-HJA]
Type: Boeing 747-8
Airport: Switzerland, Basel (BSL)
Comment: Die 747BBJ der Qatar Amiri Flight wurde nach dem aufwendigen Innenausbau in Rom lackiert und kehrte vor der Auslieferung nach Basel zurück. Die Zulassung wird in Zukunft aber wohl A7-HBJ und wurde bereits entsprechend unter dem Flügel aufgebracht. / The Qatar Amiri Flight 747BBJ has been painted after its recent interior fittings at Rome and returned prior delivery back to Basle. The upcoming registration in the future will be probably A7-HBJ, as already applied as such under the wing.
Photo by: Björn van der Velpen (Date: 30.06.2015)
Airline: Ryanair [EI-SEV]
Type: Boeing 737-700
Airport: Netherlands, Maastricht (MST)
Comment: Die erste und auch einzige Boeing 737-700 der Ryanair hat in Maastricht die bekannte Lackierung erhalten. / The first and only Ryanair Boeing 737-700 has received at Maastricht the well-known corporate scheme.
Photo by: Maxime Hadir (Date: 28.06.2015)
Airline: Comlux Malta [F-WJKG]
Type: Airbus A330-200
Airport: , France,Chateauroux (CHR) ()
Comment: Comlux Malta übernimmt on Kürze diesen ehemaligen Emirates A330-200, der als erstes Flugzeug in der Flotte eine eigenständige Lackierung trägt. / Comlux Malta will shortly take delivery of this former Emirates A330-200, the first aircraft in the fleet with the company scheme.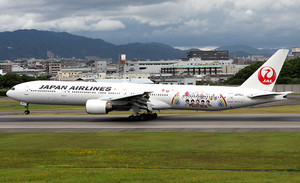 Photo by: Shingo Takahashi (Date: 27.06.2015)
Airline: Japan Airlines [JA751J]
Type: Boeing 777-300
Airport: , (ITM)
Comment: Japan Airlines hat zum vierten Mal in fünf Jahren eine ihrer Boeings mit Werbeaufklebern für Wakuwaku Gakko Tournee der einheimischen Popidolgruppe Arashi mit Werbeaufklebern versehen. / Japan Airlines has applied for the fourth time in five years to one of its Boeings promotion stickers for the local pop group Arashi, promoting their current Wakuwaku Gakko tour.