Photo by: José Ramón Valero (Date: 15.07.2016)
Airline: Royal Thai Air Force [60317]
Type: Sukhoi RRJ95
Airport: Italy, Venedig (VCE)
Comment: Schichtwechsel in Venedig: zwei Tage nachdem der zweite Sukhoi SuperJet für die Luftwaffe Thailands eingetroffen war, kehrte dieser erste RRJ95 nach dem Kabineneinbau vor der absehbaren Übergabe nach Zhukovsky zurück. / Change of shifts at Venice, two days after the second Royal Thai Air Force Sukhoi Superjet had arrived; this first RRJ95 returned after cabin configuration back to Zhukovsky prior its upcoming handover.
Photo by: Keith Burton (Date: 14.07.2016)
Airline: AirNorth Regional [F-HBXP]
Type: Embraer ERJ-170
Airport: , United Kingdom, Southend (SEN) ()
Comment: AirNorth Regional aus Alice Springs steht vor der Übernahme einer fünften Embraer 170, diesmal aus Hop! Beständen. / Alice Springs based AirNorth Regional is to take shortly delivery of a fifth Embraer 170, this time a former Hop! aircraft.
Photo by: Malcolm Bezzina (Date: 12.07.2016)
Airline: Nok Air [HS-DQG]
Type: De Havilland Dash 8-400
Airport: Malta, Luqa (MLA)
Comment: Und eine weitere bunte wieder anders lackierte Nok Air Dash 8 -400 wurde über Malta ausgeliefert. / And another colorful and again differently painted Nok Air Dash 8 -400 passed through Malta on its delivery.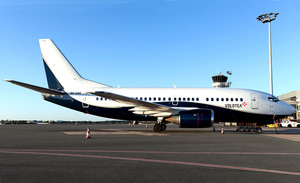 Photo by: William Vignes (Date: 12.07.2016)
Airline: Volotea Airlines [9H-OME]
Type: Boeing 737-500
Airport: , (BID)
Comment: Volotea Airlines setzt über dem Sommer ab Bordeaux eine Boeing 737-500 der maltesischen AirX Charter ein. / Volotea Airlines uses during the peak summer season a Bordeaux based Boeing 737-500 of Maltese AirX Charter