Photo by: Nik French (Date: 01.04.2016)
Airline: Titan Airways [G-POWN]
Type: Airbus A321-200
Airport: United Kingdom, Manchester (MAN)
Comment: Titan Airways hat ihren ersten Airbus A321 übernommen, der m Auftrag der Jet2 ab Manchester zum Einsatz kommen wird. / Titan Airways has taken delivery of its first Airbus A321, to be operated Manchester based on behalf of Jet2.
Photo by: Diego Ruiz de Vargas (Date: 30.03.2016)
Airline: Air Europa [EC-MHL]
Type: Airbus A330-300
Airport: Spain, Madrid, Barajas (MAD)
Comment: Ein erster Airbus A330 der Air Europa hat gerade in Manchester die aktuelle Lackierung erhalten. / A first Airbus A330 of Air Europa has just received at Manchester the latest livery.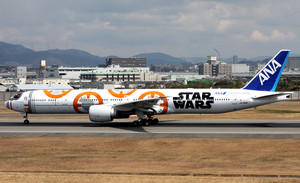 Photo by: Shingo Takahashi (Date: 28.03.2016)
Airline: ANA All Nippon [JA789A]
Type: Boeing 777-300
Airport: , (ITM)
Comment: ANA´s drittes und letztes den Star Wars gewidmetes Flugzeug ist diese 777, die eine spezielle BB-8 Lackierung erhalten hat. / ANA's third and last Star Wars dedicated aircraft is this 777, wearing a special BB-8 ANA Jet scheme.
Photo by: Simone Torella (Date: 07.03.2016)
Airline: Omni Air International [N846AX]
Type: Boeing 777-200
Airport: Italy, Rome - Fuimicino (FCO)
Comment: Omni Air International wird in Kürze die beiden Boeing 777-200ER der Kenya Airways in ihre Dienste stellen. / Omni Air International will introduce shortly both Kenya Airways Boeing 777-200ERs to its network.