Photo by: Dirk Weinrich (Date: 31.10.2015)
Airline: Wizz Air [D-AVXI / HA-LXA]
Type: Airbus A321-200
Airport: Germany, Hamburg - Finkenwerder (XFW)
Comment: Wizz Air steht vor der Übernahme ihres ersten Airbus A321. / Wizz Air is to take shortly delivery of its first Airbus A321.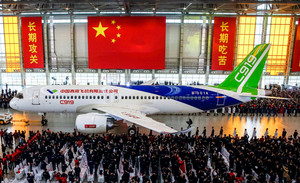 Photo by: press (Date: 02.11.2015)
Airline: COMAC [B-001A]
Type: COMAC C919
Airport: , (PVG)
Comment: COMAC (Commercial Aircraft Corporation of China) feierte am2.Novembe den Roll-Out des ersten C919 und bereitet erste Testflüge ab ihrem Werk in Shanghai für das dritte Quartal 2016 vor. Derzeit stehen bei 517 Bestellungen und Vorverträge von 21 Kunden aus dem In- und Ausland in den Büchern, darunter 7 inländische Fluggesellschaften, zwei ausländischen Fluglinien und 12 Leasinggesellschaften. / COMAC (Commercial Aircraft Corporation of China) has rolled out its first C919 narrow-body airliner from the final assembly line on November 2nd and has plans its first test flight from the Shanghai assembly center around the third quarter of 2016. Up to date, COMAC has secured 517 orders and commitments for the aircraft from 21 customers at home and abroad, including 7 domestic airlines, two overseas airlines and 12 aircraft leasing firms.
Photo by: Peter Pšenica (Date: 31.10.2015)
Airline: AirExplore [OM-FEX]
Type: Boeing 737-800
Airport: Slovakia, Bratislava (BTS)
Comment: AirExplore hat die für die Palau Pacific Airways eingesetzte Boeing 737-800 ausgewechselt, der Ersatz trägt im Gegensatz zum Vorgänger ein hellblaues Leitwerk. / Air Explore has swapped its Boeing 737-800, being operated for Palau Pacific Airways, with the substitute carrying in contrast to its predecessor, a light blue tail.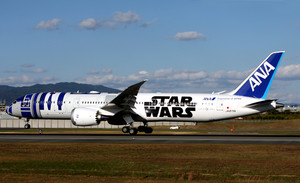 Photo by: Shingo Takahashi (Date: 31.10.2015)
Airline: ANA All Nippon [JA873A]
Type: Boeing 787-900
Airport: , (ITM)
Comment: ANA All Nippon setzt ihren kürzlich übernommenen Dreamliner in R2-D2 Star Wars Farben als Teil eines Abkommens mit Walt Disney (Japan) in Kürze auch auf ihrem Internationalen Streckennetz ein. / ANA All Nippon will use its recently delivered Dreamliner in R2-D2 Star Wars livery as a part of an agreement with Walt Disney (Japan) shortly as well on its international route network.