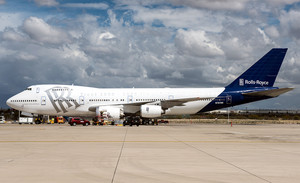 Photo by: Dietmar Schreiber (Date: 08.03.2016)
Airline: Rolls Royce [N787RR]
Type: Boeing 747-200
Airport: , (TUC)
Comment: Rolls Royce hat ihren fliegenden Trent-Triebwerkstand mit einer neuen Lackierung versehen, der das Trent 1000 als tausendmal bessere Alternative für die 787 bewirbt. / Rolls Royce has applied to its flying Trent engine test-bed a new livery promoting the Trent 1000 as the 1000 times better option for the 787.
Photo by: Yann Parmentier (Date: 15.03.2016)
Airline: République du Mali [TZ-PRM]
Type: Boeing 737-700
Airport: Switzerland, Basel (BSL)
Comment: Die Titel auf dem Boeing Business Jet der Regierung Malis sind während kürzlichen Wartungsarbeiten in Basel mächtig gewachsen. / The titles on the Mali government Boeing Business Jet have grown powerful during a recent maintenance visit at Basel.
Photo by: Dirk Weinrich (Date: 13.03.2016)
Airline: Nok Air [HS-DBV]
Type: Boeing 737-800
Airport: , Thailand, Bangkok Don Mueang (DMK) ()
Comment: Die neueste Nok Air Boeing 737-800 wurde in einem wiederum neuen Design übernommen. / The latest Nok Air Boeing 737-800 is featuring an again new design.
Photo by: Paul Sanders (Date: 15.03.2016)
Airline: Blue Dart Airlines [N274DH / VT-BDB]
Type: Boeing 757-200
Airport: Belgium, Brussels (BRU)
Comment: Die indische Blue Dart Airlines hat einen weiteren Boeing 757 Frachter übernommen, diesmal mit Winglets. / Indian Blue Dart Airlines has added another Boeing 757 freighter to its fleet, this time fitted with winglets.