Photo by: Ted Wang (Date: 20.09.2015)
Airline: Uni Air [B-16209]
Type: Airbus A321-200
Airport: Taiwan, Taipei, Chiang Kaisek (TPE)
Comment: Uni Air übernimmt mit der weiteren Ausmusterung ihrer MD-90 einige A321-200 von Eva Air. / With the phase-out of its MD-90 fleet Uni Air adds on transfer from Eva Air a small number of Airbus A321s to its fleet.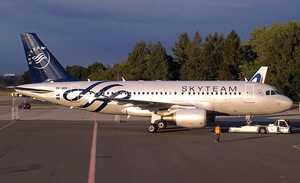 Photo by: Jan Jurečka (Date: 21.09.2015)
Airline: CSA Czech Airlines [OK-OER]
Type: Airbus A319-100
Airport: , (OSR)
Comment: CSA Czech Airlines wird on Kürze zwei Airbus A319 für Saudia in SkyTeam Farben betreiben, als zweite Maschine wird derzeit die OK-PET lackiert. / CSA Czech Airlines will operate shortly two Airbus A319s on behalf of Saudia in SkyTeam livery, with the second, OK-PET, being currently painted.
Photo by: Jeffrey S. DeVore (Date: 20.09.2015)
Airline: Rick Hendrick Motorsports [N508RH]
Type: Embraer ERJ-145
Airport: , USA, Lockport (LOT) ()
Comment: Rick Hendrick Motorsports hat ihre Saab 2000 durch zwei Embraer 145 ersetzt, die innerhalb der USA zu den Austragungsorten der Nascar Autorennen kommen. / Rick Hendrick Motorsports has replaces its Saab 2000s by two Embraer 145s, being used within the US to the specific Nascar auto race sites.
Photo by: Mickael Cavaco (Date: 09.09.2015)
Airline: VivaAeroBus [F-WWDF]
Type: Airbus A320-200
Airport: France, Toulouse (TLS)
Comment: Der nächste Airbus A320 der mexikanischen VivaAeroBus wird in einer revidierten Lackierung übernommen. / The next Airbus A320 for Mexican VivaAerobus will be the first in a revised livery.