Photo by: Pierre Rohr (Date: 19.08.2015)
Airline: Amaszonas del Paraguay [EC-ITU]
Type: Canadair CRJ200
Airport: , Brazil, Belo Horizonte (CNF) ()
Comment: Amaszonas del Paraguay hat den ersten von bis zu sechs CRJ200 übernommen, die von ihrem Partner Air Nostrum zur Verfügung gestellt werden. / Amaszonas del Paraguay has taken delivery of the first of up to six CRJ200s, to be provided by its partner Air Nostrum.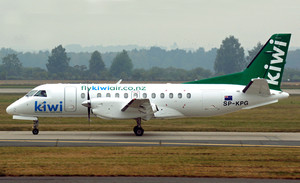 Photo by: Jan Jurečka (Date: 17.08.2015)
Airline: Kiwi Regional Airlines [SP-KPG / ZK-KRA]
Type: Saab 340
Airport: , (OSR)
Comment: Kiwi Regional Airlines übernimmt in Kürze diese in Ostrava lackierte Sprint Air Saab 340, um pünktlich zum Winterflugplanbeginn ab Hamilton an den Start gehen zu können. / Kiwi Regional Airlines is to take shortly delivery of this former Sprint Air Saab 340 just painted at Ostrava to start-up effective winter schedule season from its Hamilton base.
Photo by: Alex Maras (Date: 15.08.2015)
Airline: Heli Air Services [LZ-CCT]
Type: Let 410
Airport: Greece, Athen (ATH)
Comment: Diese in schicken neuen Farben lackierte Let 410 der bulgarischen Heli Air Services kommt neu ab Athen zur Insel Paros zum Einsatz. / This newly nicely painted 410 Let of Bulgarian Heli Air Services is being used now in services between Athens and Paros island.
Photo by: Shingo Takahashi (Date: 15.08.2015)
Airline: JetStar Asia [9V-JSH]
Type: Airbus A320-200
Airport: Japan, Osaka, Kansai (KIX)
Comment: Jetstar Asia ist die dritte Fluggesellschaft Singapurs mit einer Sonderlackierung zum 50. Jahrestag der Unabhängigkeit; entwickelt von einem lokalen Künstler, inspiriert von einer vor Ort häufigen Vogelart und zeigt 50 verdiente Mitbürger. / Jetstar Asia is the third Singapore based carrier with a special livery to commemorate Singapore 50th anniversary since its independence; designed by a local artist who was inspired by one of Singapore's most common bird species and featuring 50 selected local heroes.