Photo by: Alex Saffe (Date: 04.11.2015)
Airline: Ceiba Cargo [RA-76384]
Type: Ilyushin Il-76
Airport: Switzerland, Geneva (GVA)
Comment: Ceiba Cargo hat ihre von Shar Ink unter Vertrag genommene llyushin 76 durch eine modernere Schwestermaschine der Version TD-90 mit den neuen Triebwerken aus der gleichen Quelle ersetzt. / Ceiba Cargo has replaced its Ilyushin freighter, contracted from Shar Ink, by a more modern sister-ship from the same source, a TD-90 with new engines.
Photo by: Colin Parker (Date: 03.11.2015)
Airline: Cathay Pacific [B-KPM]
Type: Boeing 777-300
Airport: Hong Kong, Chek Lap Kok (HKG)
Comment: Cathay Pacific hat eine neue Bemalung vorgestellt, die erste größere Veränderung binnen zwei Jahrzehnten. / Cathay Pacific unveiled a new livery, marking the airline's biggest makeover in two decades.
Photo by: Dirk Weinrich (Date: 31.10.2015)
Airline: Wizz Air [D-AVXI / HA-LXA]
Type: Airbus A321-200
Airport: Germany, Hamburg - Finkenwerder (XFW)
Comment: Wizz Air steht vor der Übernahme ihres ersten Airbus A321. / Wizz Air is to take shortly delivery of its first Airbus A321.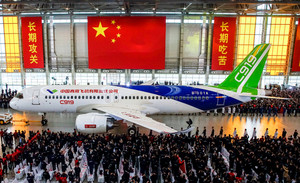 Photo by: press (Date: 02.11.2015)
Airline: COMAC [B-001A]
Type: COMAC C919
Airport: , (PVG)
Comment: COMAC (Commercial Aircraft Corporation of China) feierte am2.Novembe den Roll-Out des ersten C919 und bereitet erste Testflüge ab ihrem Werk in Shanghai für das dritte Quartal 2016 vor. Derzeit stehen bei 517 Bestellungen und Vorverträge von 21 Kunden aus dem In- und Ausland in den Büchern, darunter 7 inländische Fluggesellschaften, zwei ausländischen Fluglinien und 12 Leasinggesellschaften. / COMAC (Commercial Aircraft Corporation of China) has rolled out its first C919 narrow-body airliner from the final assembly line on November 2nd and has plans its first test flight from the Shanghai assembly center around the third quarter of 2016. Up to date, COMAC has secured 517 orders and commitments for the aircraft from 21 customers at home and abroad, including 7 domestic airlines, two overseas airlines and 12 aircraft leasing firms.