Photo by: Ivan Nishimura (Date: 17.07.2015)
Airline: NewGen Airways [N645AR / HS-NGG]
Type: Boeing 737-800
Airport: USA, Honolulu, HI (HNL)
Comment: Die thailändische NewGen Airways wartet jetzt auch mit dem passenden Fluggerät auf, einer ersten Boeing 737-800. / Thai NewGen Airways is shortly on track with a first Boeing 737-800.
Photo by: Peter Pšenica (Date: 17.07.2015)
Airline: Transaero [EI-VKO]
Type: Airbus A321-200
Airport: Slovakia, Bratislava (BTS)
Comment: Transaero hat ihren ersten Airbus, einen A321 übernommen, der jetzt in Bratislava vor der Indienststellung die neuen größeren Titel erhält. / Transaero has taken delivery of its first Airbus, an A321, which is receiving now at Bratislava the new bigger titles prior entering service.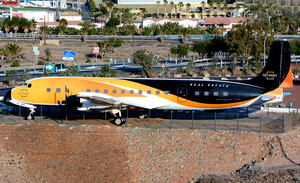 Photo by: José & Alejandro Hernández León (Date: 16.07.2015)
Airline: Binter Canarias [EC-BBT]
Type: Douglas DC-7
Airport: , Spain, Gran Canaria, El Berriel (GCLB) ()
Comment: Binter Canarias hat sich erfreulicherweise der seit Jahrzehnten am El Berriel Flugplatz Gran Canarias abgestellten Douglas DC-7 angenommen und sie teilrestauriert und mit ihrer schicken aktuellen Lackierung versehen. / Binter Canarias has fortunately administered to the needs of this Douglas DC-7 at Gran Canarias's El Berriel airfield, parked there since decades, having been partially restored now and painted with the current smart scheme of the airline.
Photo by: Michael von Roth (Date: 16.07.2015)
Airline: Lufthansa [D-ABVU]
Type: Boeing 747-400
Airport: Germany, Frankfurt/Main (FRA)
Comment: Lufthansa hat diese Boeing 747-400 für eine von Audi organisierte einwöchige Sommerfußballtour durch China mit FC Bayern Aufklebern versehen. / Lufthansa has applied FC Bayern stickers to this Boeing 747-400 for a one-week football summer tour of China, organized by Audi.