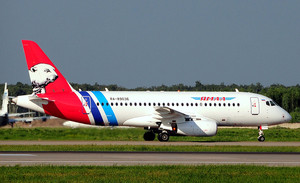 Photo by: CĂ©dric Soltys (Date: 03.06.2016)
Airline: Yamal Airlines [RA-89036]
Type: Sukhoi RRJ95
Airport: , (DME)
Comment: Yamal Airlines hat die ersten drei von fĂĽnfzehn geplanten Sukhoi SuperJets in Dienst gestellt. / Yamal Airlines has introduced the first three of fifteen planned Sukhoi Super jet to its fleet.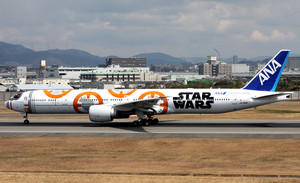 Photo by: Shingo Takahashi (Date: 28.03.2016)
Airline: ANA All Nippon [JA789A]
Type: Boeing 777-300
Airport: , (ITM)
Comment: ANA´s drittes und letztes den Star Wars gewidmetes Flugzeug ist diese 777, die eine spezielle BB-8 Lackierung erhalten hat. / ANA's third and last Star Wars dedicated aircraft is this 777, wearing a special BB-8 ANA Jet scheme.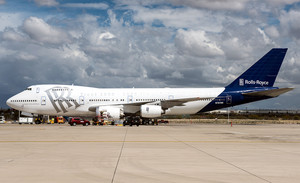 Photo by: Dietmar Schreiber (Date: 08.03.2016)
Airline: Rolls Royce [N787RR]
Type: Boeing 747-200
Airport: , (TUC)
Comment: Rolls Royce hat ihren fliegenden Trent-Triebwerkstand mit einer neuen Lackierung versehen, der das Trent 1000 als tausendmal bessere Alternative fĂĽr die 787 bewirbt. / Rolls Royce has applied to its flying Trent engine test-bed a new livery promoting the Trent 1000 as the 1000 times better option for the 787.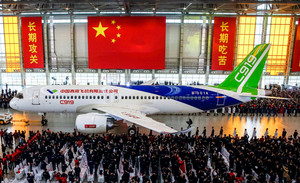 Photo by: press (Date: 02.11.2015)
Airline: COMAC [B-001A]
Type: COMAC C919
Airport: , (PVG)
Comment: COMAC (Commercial Aircraft Corporation of China) feierte am2.Novembe den Roll-Out des ersten C919 und bereitet erste Testflüge ab ihrem Werk in Shanghai für das dritte Quartal 2016 vor. Derzeit stehen bei 517 Bestellungen und Vorverträge von 21 Kunden aus dem In- und Ausland in den Büchern, darunter 7 inländische Fluggesellschaften, zwei ausländischen Fluglinien und 12 Leasinggesellschaften. / COMAC (Commercial Aircraft Corporation of China) has rolled out its first C919 narrow-body airliner from the final assembly line on November 2nd and has plans its first test flight from the Shanghai assembly center around the third quarter of 2016. Up to date, COMAC has secured 517 orders and commitments for the aircraft from 21 customers at home and abroad, including 7 domestic airlines, two overseas airlines and 12 aircraft leasing firms.