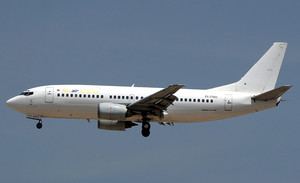 Photo by: Paul Denton (Date: 23.03.2013)
Airline: Eastok Avia [EX-37002]
Type: Boeing 737-300
Airport: , (DX)
Comment: Eastok Avia setzt diese Boeing 737-300 jetzt neu f├╝r Nasair Eritrea ein. / Eastok Avia operates this Boeing 737-300 now on behalf of Nasair Eritrea.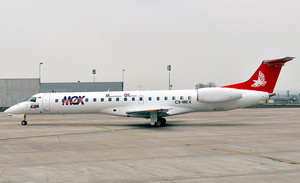 Photo by: Patrick Dourlot (Date: 22.02.2013)
Airline: MEX Mo├žambique Expresso [C9-MEX]
Type: Embraer ERJ-145
Airport: , (CGE)
Comment: MEX Mo├žambique Expresso hat den ersten von zwei Embraer 145 ├╝bernommen. / MEX Mo├žambique Expresso took delivery of he first of two Embraer 145s.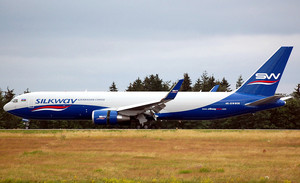 Photo by: Peter Schmitt (Date: 17.07.2012)
Airline: Silkway West Airlines [4K-SW808]
Type: Boeing 767-300
Airport: , (HHN)
Comment: Der erste Boeing 767-300 Frachter der Silkway West Airlines kam erstmals nach Westeuropa zum Einsatz. / The first Boeing 767-300 freighter of Silkway West Airlines was operated for the first time to Western Europe.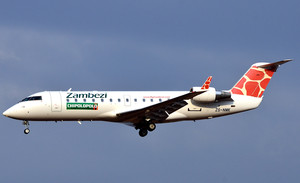 Photo by: Bobby Skirde (Date: 22.06.2012)
Airline: Zambezi Airlines [ZS-NMK]
Type: Canadair CRJ200
Airport: , (NB)
Comment: Zambezi Airlines ist wie geplant wieder an den Start gegangen. Etwas kleiner mit einem gemieteten CRJ200, der zus├Ątzliche Chipolopolo Titel tr├Ągt, der Name der einheimischen Fu├čballmannschaft, die k├╝rzlich den Titel im afrikanischen AFCON 2012 Cup holte. / Zambezi Airlines has restarted operations as planned. Much smaller with a leased CRJ200 wearing additional Chipolopolo titles, the Zambian national football team that recently won the AFCON 2012 Football tournament.