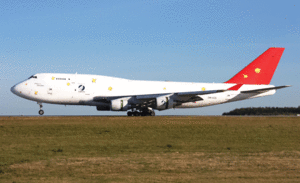 Photo by: Frederik Neeb (Date: 29.09.2018)
Airline: Air Cargo Global [OM-ACG]
Type: Boeing 747-400
Airport: , (HHN)
Comment: Air Cargo Global ist nach einer rund dreimonatigen Unterbrechung mit zwei ihrer drei Boeing 747-400 Frachter wieder an den Start gegangen. Diese, versehen mit Sternen und Planten und dem Namen Prinzess Kristina ab Hahn, Mailand und Budapest in Zusammenarbeit mit Aquiline International auf Umläufen der Silkway Airlines zum Einsatz, ein anderer der beiden zeitweise in Sharjah abgestellten von dort nach Kandahār in Afghanistan. / Air Cargo Global has returned two of its three Boeing 747-400 freighters after a three months break back into service. This one, now showing stars and planets has been named Princess Kristina since and is used from Hahn, Milan and Budapest in cooperation with Aquiline International on Silkway Airlines rotations, while one the two aircraft temporarily parked in Sharjah has received a contract from there to Kandahar in Afghanistan.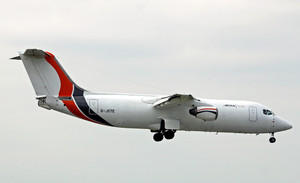 Photo by: Simon Murdoch (Date: 08.06.2018)
Airline: Jota Aviation [G-JOTE]
Type: BAe 146
Airport: , (EN)
Comment: Jota Aviation hat einen ersten BAe 146-300QT Frachter mit ihren Farben und kleinen Cargo Titeln versehen. / Jota Aviation has applied to first BAe 146-300QT freighter its full livery plus small cargo titles.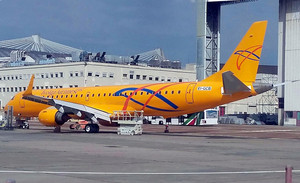 Photo by: Romaspotters (Date: 09.04.2018)
Airline: Ivolga Airlines [EI-GCB]
Type: Embraer ERJ-190
Airport: , (FCI)
Comment: Die neueste Embraer 190 der Saratov Airlines aus zweiter Hand hat nach der kürzlichen Umbenennung in Ivolga Airlines noch vor der Übernahme entsprechende Titel erhalten. / The latest Saratov Airlines' second-hand Embraer 190 has received prior acceptance Ivolga Airlines titles following its recent name-change.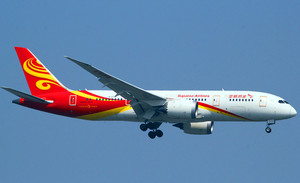 Photo by: Paul Sanders (Date: 01.04.2018)
Airline: Suparna Airlines [B-2738]
Type: Boeing 787-800
Airport: , (PVG)
Comment: Hainen Airline hat einen ersten Dreanlimer an ihre Tochter Suparna Airlines transferiert, die bislang auf dem Passagiersektor nur Boeing 737-800 eingesetzt hat. / Hainan Airline has transferred a first Dreanlimer to its subsidiary Suparna Airlines, having operated so far only Boeing 737-800s in the passenger sector.