Photo by: Marco Finelli (Date: 18.05.2018)
Airline: Air Italy [EI-FFW]
Type: Boeing 737-800
Airport: Italy, Bologna (BLQ)
Comment: Air Italy versieht ihre Boeing 737-700 und -800 Flotte in Meridiana Farben derzeit mit aktualisierten Titeln und Leitwerksemblem. / Air Italy is currently applying to its Boeing 737-700 and 800 fleet in Meridiana scheme updated titles and tail logos.
Photo by: Jérémy Denton (Date: 18.05.2018)
Airline: Pakistan International [AP-BLU]
Type: Airbus A320-200
Airport: UAE, Dubai (DXB)
Comment: Pakistan International hat sich erneut für eine gänzliche Überarbeitung ihres Markenauftritts entschieden und hat einen ersten Airbus A320-200 mit der neuen wirklich respektablen Lackierung versehen. / Once again, Pakistan International has decided to completely revamp its brand image, and has given a first Airbus A320-200 a truly respectable livery.
Photo by: Gerard Bosman (Date: 17.05.2018)
Airline: JetNetherlands [PH-DWS]
Type: Embraer ERJ-135
Airport: Netherlands, Rotterdam (RTM)
Comment: JetNetherlands erwarb eine erste Embraer 135, die in Kooperation mit der belgischen Firma ASL unter der Marke Air Charter Europe betrieben wird. / JetNetherlands acquired a first Embraer 135 being operated in cooperation with Belgium Company ASL under the Air Charter Europe brand.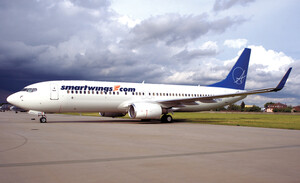 Photo by: Václav Kudela (Date: 16.05.2018)
Airline: Travel Service [N276EA]
Type: Boeing 737-800
Airport: Czech Republic, Prague (PRG)
Comment: Die dritte Swift Air Boeing 737-800 bei Travel Service trägt Eastern Air Lines Farben mit smartwings Titeln. / The third Swift Air Boeing 737-800 with Travel Service wears Eastern Air Lines livery with smartwings titles.