Photo by: Cyril Roulin (Date: 16.04.2018)
Airline: Turkish Airlines [TC-JTP]
Type: Airbus A321-200
Airport: Switzerland, Geneva (GVA)
Comment: 2018 ist das Jahr von Troja in der Türkei und so setzte auch Turkish Airlines die Werbetrommel für eine Veranstaltungsreihe in der Provinz Canakkale, Heimat er historischen Stätte, an, um das 20 Jahr als anerkanntes UNESCO Weltkulturerbe zu feiern. / 2018 is the year of Troy in Turkey as well Turkish Airlines is promoting the Canakkale province where the historic city is located, where a series of events is planned to celebrate its 20th year as a World UNESCO Heritage site.
Photo by: Andreas Schmucki (Date: 15.04.2018)
Airline: Montenegro Airlines [9H-OME]
Type: Boeing 737-500
Airport: Switzerland, Zuerich ( Zurich ) (ZRH)
Comment: Montenegro Airlines hat über den Sommer eine Boeing 737-500 der Air X Charter unter Vertrag genommen; hier beim Ersteinsatz nach Zürich / Montenegro Airlines has contracted an Air X Charter Boeing 737-500 for the summer; seen here during its inaugural use to Zurich.
Photo by: Alejandro León Hernández. (Date: 13.04.2018)
Airline: Silver Airways [N400SV]
Type: ATR 42
Airport: Spain, Las Palmas (LPA)
Comment: Mit der Übernahme ihrer ersten ATR 42-600 hat der bisherige Saab 349 Betreiber Silver Airways sein Auftreten gänzlich überarbeitet. / With the delivery of its first ATR 42-500, previous Saab 349 operator Silver Airways has completely revised its appearance.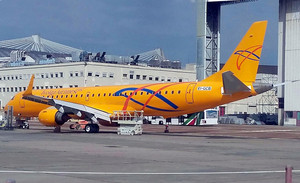 Photo by: Romaspotters (Date: 09.04.2018)
Airline: Ivolga Airlines [EI-GCB]
Type: Embraer ERJ-190
Airport: , (FCI)
Comment: Die neueste Embraer 190 der Saratov Airlines aus zweiter Hand hat nach der kürzlichen Umbenennung in Ivolga Airlines noch vor der Übernahme entsprechende Titel erhalten. / The latest Saratov Airlines' second-hand Embraer 190 has received prior acceptance Ivolga Airlines titles following its recent name-change.