Photo by: José Ramón Valero (Date: 19.09.2016)
Airline: Iberia Express [EC-LYE]
Type: Airbus A320-200
Airport: Spain, Madrid, Barajas (MAD)
Comment: Iberia Express bewirbt mit Pull & Bear ist ein ursprünglich in Spanien gegründetes und ansässiges Textilunternehmen des spanischen Mutterkonzerns Inditex. / Iberia Express promotes with Pull & Bear an originally in Spain founded and headquartered textile company of Spanish parent company Inditex.
Photo by: Junichi Suzuki (Date: 17.09.2016)
Airline: AirAsia [9M-NEO]
Type: Airbus A320neo
Airport: Malaysia, Kuala Lumpur (KUL)
Comment: AirAsia hat ihren ersten Airbus A320neo direkt nach der Auslieferung vor der Indienststellung mit entsprechenden Sonderfarben versehen. / AirAsia applied to its first Airbus A320neo directly after delivery prior service entry with a corresponding special livery.
Photo by: Keith Newsome (Date: 19.09.2016)
Airline: Starbow Airlines [9G-SBE]
Type: BAe Avro RJ100
Airport: , United Kingdom, Norwich (NWI) ()
Comment: Starbow Airlines hat eine ihrer BAe 146-300 durch eine modernere RJ100 ersetz und gleichzeitig ihre Lackierung weiter veredelt. / Starbow Airlines has replaced one of its BAe 146-300s by a much more modern RJ100 refining with the delivery as well its corporate ID.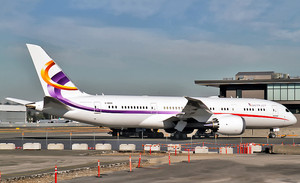 Photo by: Michael Carter (Date: 14.09.2016)
Airline: Deer Jet [2-DEER]
Type: Boeing 787-800
Airport: , (BFI)
Comment: Der kurzfristig von der chinesischen Deer Jet übernommene Dreamliner Business Jet hat vor der Auslieferungsflug noch eine gänzlich neue Lackierung in Victorville erhalten. / This Dreamliner Business Jet, acquired on quite short notice by Chinese Deer Jet, had received a completely new livery at Victorville prior its delivery flight.