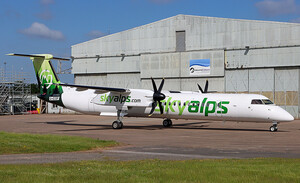 Photo by: John Gregory (Date: 25.05.2023)
Airline: SkyAlps [G-ECOP]
Type: De Havilland Dash 8-400
Airport: United Kingdom, Derby ( East Midlands ) (EMA)
Comment: Zu Recht grüner und ökologscher gibt sich SkyAlps mit ihrer neuen Lackierung, die zunächst vier weitere Dash 8-400 erhalten. / SkyAlps shows itself rightly greener and more ecological with its new paintwork, which will initially be worn by four more Dash 8-400s.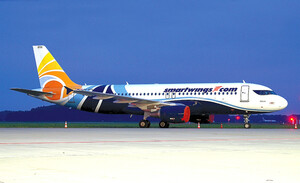 Photo by: Jan Jurecka (Date: 25.05.2023)
Airline: smartwings [9A-BTH]
Type: Airbus A320-200
Airport: , Czech Republic, Ostrava (OSR) ()
Comment: Aus dem Einerlei der aktuellen Sommernassnieten weißer Flugzeuge, ggf. mit Titeln, ragt dieser smatwings / Trade Air Airbus A320-200 aus der diesjährigem Masse heraus. / This smatwings / Trade Air Airbus A320-200 stands out from this year´s monotony crowd of current summer wet-leases of white airplanes, many even not with any titles.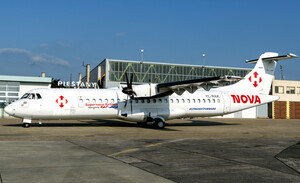 Photo by: Bohus Klecak (Date: 24.05.2023)
Airline: Supernova Airlines [YL-RAK]
Type: ATR 72
Airport: , Slovakia, Pieštany (PZY) ()
Comment: RAF-Avia und die ukrainische Neugründung Supernova Airlines kooperieren neu eng beim Einsatz eines ATR 72-500 Frachters. / RAF-Avia and Ukrainian newcomer Supernova Airlines are now cooperating closely on the deployment of an ATR 72-500 freighter.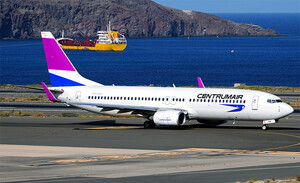 Photo by: Alejandro Hernández León (Date: 22.05.2023)
Airline: GetJet Airlines [LY-DUE]
Type: Boeing 737-800
Airport: Spain, Las Palmas (LPA)
Comment: Die beiden von GetJet Airlines an die usbekische Centrum Air vermieteten und vor Ort volllackierten Boeing 737-800 haben nach der (temporären) Rückkehr diese Farben und diese aauch die Titel behalten. / The two Boeing 737-800s wet-leased by GetJet Airlines to Uzbekistan's Centrum Air and fully painted on site have retained these colours and this one as well the titles after their (temporary) return.