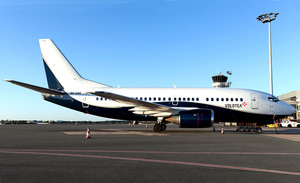 Photo by: William Vignes (Date: 12.07.2016)
Airline: Volotea Airlines [9H-OME]
Type: Boeing 737-500
Airport: , (BID)
Comment: Volotea Airlines setzt über dem Sommer ab Bordeaux eine Boeing 737-500 der maltesischen AirX Charter ein. / Volotea Airlines uses during the peak summer season a Bordeaux based Boeing 737-500 of Maltese AirX Charter
Photo by: M Radzi Desa (Date: 12.07.2016)
Airline: Suasa Airlines [9M-SUA]
Type: Boeing 737-400
Airport: , Malaysia, Kuala Lumpur Subang (SZB) ()
Comment: Die malaiische Neugründung Suasa Airlines steht wie geplant vor der Übernahme der ersten von anfänglich zwei Boeing 737-400 aus Malaysia Airlines Beständen. / Malaysian newcomer Suasa Airlines is ready to start-up with the first of initially two former Malaysia Airlines Boeing 737-400s.
Photo by: SPA Photo (Date: 11.07.2016)
Airline: Saab [SE-LRA]
Type: Saab 2000
Airport: , United Kingdom, Farnborough (FAB) ()
Comment: Diese Saab 2000 des Herstellers bewirbt derzeit den Stadtflughafen von Linköping als Schwedens Zugangstor in die Welt. / The manufacturers own Saab 2000 currently promotes Linköping´s city airport as gateway for the locals to the world.
Photo by: Ola Carlsson (Date: 12.07.2016)
Airline: Wings of Lebanon [TC-TLH]
Type: Boeing 737-800
Airport: Sweden, Stockholm, Arlanda (ARN)
Comment: Die seit Ende Juni von Tailwind Airlines gemietete Boeing 737-800 der Wings of Lebanon trägt auch entsprechende Titel. / The wet-leased Tailwind Airlines Boeing 737-800, Wings of Lebanon has under contract since late June is wearing corresponding titles.