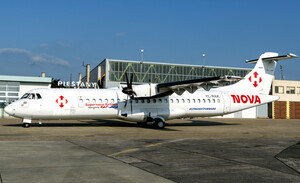 Photo by: Bohus Klecak (Date: 24.05.2023)
Airline: Supernova Airlines [YL-RAK]
Type: ATR 72
Airport: , Slovakia, Pieštany (PZY) ()
Comment: RAF-Avia und die ukrainische Neugr├╝ndung Supernova Airlines kooperieren neu eng beim Einsatz eines ATR 72-500 Frachters. / RAF-Avia and Ukrainian newcomer Supernova Airlines are now cooperating closely on the deployment of an ATR 72-500 freighter.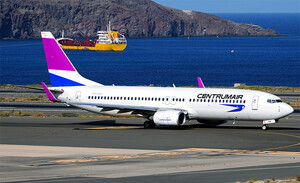 Photo by: Alejandro Hernández León (Date: 22.05.2023)
Airline: GetJet Airlines [LY-DUE]
Type: Boeing 737-800
Airport: Spain, Las Palmas (LPA)
Comment: Die beiden von GetJet Airlines an die usbekische Centrum Air vermieteten und vor Ort volllackierten Boeing 737-800 haben nach der (tempor├Ąren) R├╝ckkehr diese Farben und diese aauch die Titel behalten. / The two Boeing 737-800s wet-leased by GetJet Airlines to Uzbekistan's Centrum Air and fully painted on site have retained these colours and this one as well the titles after their (temporary) return.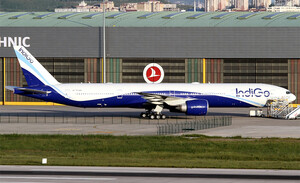 Photo by: Ilgaz Deger (Date: 22.05.2023)
Airline: Turkish Airlines [TC-LKD]
Type: Boeing 777-300
Airport: , Turkey, Istanbul Atat├╝rk (ISL) ()
Comment: Letzte Vorbereitungen wurden abgeschlossen, um diese von Turkish Airlines gemietete Boeing 777-300 mit 531 Sitzpl├Ątzen in K├╝rze gemeinschaftlich mit IndiGo Airlines zwischen Istanbul und Delhi einzusetzen. / Final preparations have been completed to soon share this 531-seat Boeing 777-300 leased by Turkish Airlines with IndiGo Airlines between Istanbul and Delhi.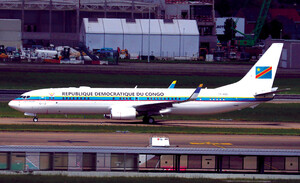 Photo by: Paul Sanders (Date: 17.05.2023)
Airline: R├ępublique d├ęmocratique du Congo [T7-RDC]
Type: Boeing 737-900
Airport: Belgium, Brussels (BRU)
Comment: Die Regierung der VR Kongo hat endg├╝ltig den nostalgischen Zeiten der ersten Boeing Generationen abgeschworen und jetzt einen auch schon f├╝nfzehn Jahre alten Boeing 737 BBJ3 ├╝bernommen. / The government of DR Congo has finally renounced the nostalgic times of the first Boeing generations and has now taken over a fifteen-year-old Boeing 737 BBJ3.