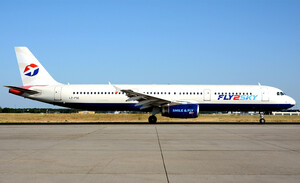 Photo by: Bernhard Ross (Date: 25.06.2023)
Airline: Fly2Sky [LZ-FSC]
Type: Airbus A321-200
Airport: Germany, Frankfurt/Main (FRA)
Comment: Dieser Airbus A321-200 der Fly2Sky kommt seit der Auslieferung f├╝r airBaltic mit Stationierung in Riga zum Einsatz. / This Fly2Sky Airbus A321-200 has been operated on behalf of airBaltic with base in Riga since its delivery.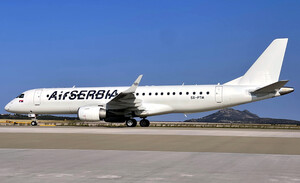 Photo by: Alex Filippopoulos (Date: 21.06.2023)
Airline: Marathon Airlines [SX-PTM]
Type: Embraer ERJ-190
Airport: Greece, Athen (ATH)
Comment: Der erste Embraer 190 der Marathon Airlines wurde f├╝r die verbleibende Sommersaison von der Air Serbia unter Vertrag genommen. / Marathon Airlines' first Embraer 190 has been wet-leased by Air Serbia for the remainder of the summer season.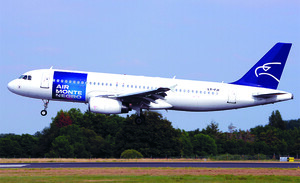 Photo by: Romain Salerno (Date: 16.06.2023)
Airline: Air Montenegro [LY-FJI]
Type: Airbus A320-200
Airport: France, Nantes (NTE)
Comment: Der von Heston Airline s ├╝ber den Sommer gemietete Airbus A320-200 der Air Montenegro hat jetzt in zwei Etappen die vollst├Ąndige Lackierung erhalten. / Air Montenegro's Airbus A320-200 on wet-lease from Heston Airlines over the summer has now received their full livery in two stages.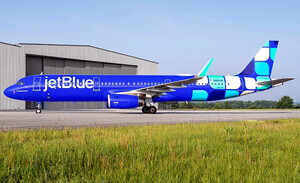 Photo by: courtesy of jetBlue (Date: 14.06.2012)
Airline: jetBlue Airways [N982JB]
Type: Airbus A321-200
Airport: USA, Macon, GA (MCN)
Comment: jetBlue Airways stellte auf diesem Airbus A321-200 mit ihrem bisher blausten Flugzeug eine neue Lackierung vor, wie schon zuvor die Basis f├╝r unterschiedliche farbenfrohe Leitwerkslackierungen wie Sonderanstriche. / jetBlue Airways presented their new livery on this Airbus A321-200 with their bluest aircraft to date, as before the basis for different colourful tailfin patterns and special liveries