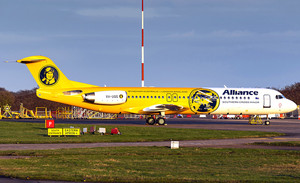 Photo by: Matt Varley (Date: 04.01.2020)
Airline: Alliance Airlines [VH-UQG]
Type: Fokker 100
Airport: United Kingdom, Norwich (NWI)
Comment: Der neueste Flottenzugang bei der australischen Alliance Airlines gedenkt dem einheimischen Flugpionier Sir Charles Edward Kingsford Smith, der 1928 ab den USA den ersten Flug ├╝ber den Pazifischen Ozean nach Australien realisiert hat und seit 85 Jahren w├Ąhrend eines weiteren Flugabenteuer in der Andamanisches Meer verschollen ist, nachdem seit 1936 auch der Flughafen in Sydney benannt ist. / The latest upcoming fleet addition with Australian Alliance Airlines commemorates local aviation pioneer Sir Charles Edward Kingsford Smith, who had realised the first flight over the Pacific Ocean to Australia from the United States in 1928 but had sadly got presumed lost in another flight adventure in the Andaman Sea 85 years ago. As well since 1936 in honour Sydney┬┤s airport wears his name.
Photo by: Javier Rodr├şguez (Date: 01.01.2020)
Airline: Air Kiribati [PR-EHT / VH-IKJ]
Type: Embraer ERJ-190
Airport: Spain, Palma de Mallorca (PMI)
Comment: Air Kiribati hat zum Jahreswechsel den ersten von zwei Embraer 190-E2 ├╝bernommen; auf Palma de Mallorca am Neujahrstag w├Ąhrend ihrer Auslieferung vor Ort vielleicht bereits der Clou des Jahres. / Air Kiribati took delivery of the first of two Embraer 190-E2s on order at the turn of the year; on site at Palma de Mallorca on New Year's Day during its delivery it may already have been the highlight of the year.
Photo by: MLAsp (Date: 22.12.2019)
Airline: Air X Charter [9H-FAB]
Type: Embraer ERJ-190
Airport: Malta, Luqa (MLA)
Comment: Air X Charter hat die beiden Embraer 190 Lineage der chinesischen SR Jet ├╝bernommen, die umgehend ├╝ber Paris nach Keflavik und nach Abu Dhabi zum Flughafen Bateen eingesetzt wurden. / Air X Charter acquired both Embraer 190 Lineage┬┤s from Chinese SR Jet, which were put inti service within days via Paris to Keflavik and Abu Dhabi┬┤s Bateen airport.
Photo by: Damian Bracken (Date: 24.12.2019)
Airline: Myanmar Airways International [XY-ALK]
Type: Airbus A319-100
Airport: Ireland, Dublin (DUB)
Comment: Myanmar Airways International hat ihren derzeit dritten A319-100 unter Farbvorlage des zuvor von Vueling nicht ├╝bernommenen Airbus A320 in Goodyear vor Auslieferung lackieren lassen. / Myanmar Airways International had its third A319-100 painted in Goodyear before delivery, using the livery sample of previously accepted Airbus A320, initially intended for Vueling but not taken up.