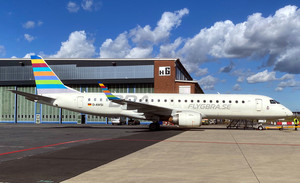 Photo by: Mike Snyder (Date: 12.03.2020)
Airline: WDL Aviation [D-AWSI]
Type: Embraer ERJ-190
Airport: Germany, Cologne ( Koeln )/Bonn (CGN)
Comment: WDL Aviation hat eine der zwei fĂĽr BRA Braathens Regional bereits eingesetzten Embraer 190 durch eine dritte Maschine und dazu in ihrer voller Lackierung ersetzt. / WDL Aviation has replaced one of two Embraer E190s on wet-lease to BRA Braathens Regional by a third aircraft wearing as well their full scheme.
Photo by: Ulrich Hoppe (Date: 12.03.2020)
Airline: Sun Express Deutschland [D-ASXX]
Type: Boeing 737-800
Airport: Germany, Frankfurt/Main (FRA)
Comment: Sun Express Deutschland unterstreicht neu mit einer Sonderlackierung seine Partnerschaft mit dem FuĂźball-Traditionsverein Eintracht SGE. / Sun Express Germany is now underlining its partnership with the traditional football club Eintracht SGE with a special livery.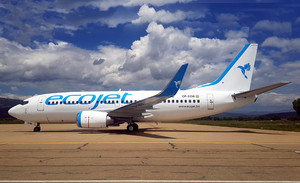 Photo by: Fernando Ruiz Vera (Date: 09.03.2020)
Airline: EcoJet [CP-3136]
Type: Boeing 737-300
Airport: Bolivia, Cochabamba (CBB)
Comment: Der bolivianische BAe 146-200 Betreiber EcoJet hat eine erste von Southwest ĂĽbernommene Boeing 737-300 in Dienst gestellt. / Bolivian EcoJet has introduced a first former Southwest Boeing 737-300 to its so far all BAe 146-200 fleet.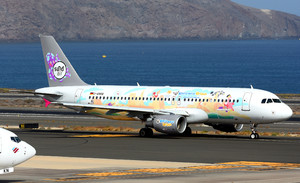 Photo by: José Hernández León (Date: 08.03.2020)
Airline: Sundair [D-ANNA]
Type: Airbus A320-200
Airport: Spain, Las Palmas (LPA)
Comment: Sundair´s neuester Flottenzugang hat eine "Katta" Sonderlackierung erhalten, das Maskottchen vom Reiseveranstalter und Teilhaber Schauinsland Reisen und Teil eines Animationskonzepts. / Sundair's newest fleet addition has received a special "Katta" livery, the mascot of tour operator and in-house partner Schauinsland Reisen and part of an animation concept.