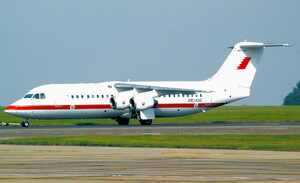 Photo by: Kevin Hudson (Date: 09.09.2021)
Airline: Royal Bahraini Air Force [A9C-KAS]
Type: BAe Avro RJ100
Airport: , United Kingdom, Norwich (NWI) ()
Comment: Die Luftwaffe Bahrains steht vor der ├ťbernahme eine zweiten BAe Avro RJ100 f├╝r das Transportgeschwader. / The Bahraini Air Force is about to accept a second BAe Avro RJ100 for its air wing division.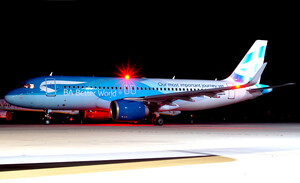 Photo by: Jan Jurecka (Date: 06.09.2021)
Airline: British AIrways [G-TTNA]
Type: Airbus A320
Airport: , Czech Republic, Ostrava (OSR) ()
Comment: Mit dem Startschuss f├╝r BA Better World begibt sich British Airways mit dem Ziel f├╝r eine bessere, nachhaltigere Zukunft auf ihre bisher wichtigste Reise, um eine Nullbilanz bei ihren Emissionen zu erreichen. / British Airways has embarked on their most important journey yet for a better and more sustainable future with the launch of BA Better World taking actions towards net zero emissions.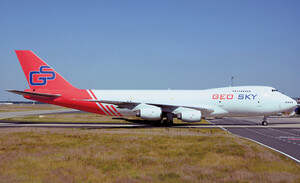 Photo by: Bernhard Ross (Date: 03.09.2021)
Airline: AirGeoSky [4L-GEN]
Type: Boeing 747-200F
Airport: Germany, Frankfurt/Main (FRA)
Comment: AirGeoSky hat einen ersten Boeing 747-200 Frachter mit einer vollst├Ąndigen Lackierung versehen. / AirGeoSky has given a first Boeing 747-200 freighter a full scheme.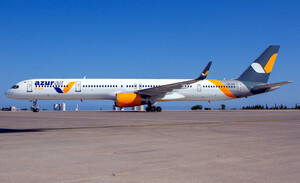 Photo by: Gerrit Griem (Date: 29.08.2021)
Airline: Azur Air [UR-AZO]
Type: Boeing 757-300
Airport: Turkey, Antalya (AYT)
Comment: Die beiden von Boeing ├╝bernommenen Boeing 757-300 der Azur Air, die zuvor nur kurz bei Condor im Einsatz standen, tragen eine Mischlackierung. / Both Azur Air Boeing 757-300s acquired from Boeing and in use only briefly with Condor are wearing a hybrid livery.