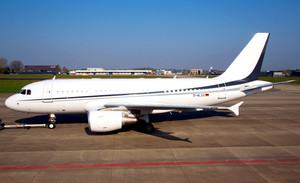 Photo by: Bj├Ârn van der Velpen (Date: 09.04.2020)
Airline: K5 Aviation [D-ALXX]
Type: Airbus A319-100
Airport: Netherlands, Maastricht (MST)
Comment: K5 Aviation hat die bisher eher kreative Lackierung auf diesem Airbus A319 Corporate Jet durch eine eher gediegene ersetzt. / K5 Aviation has replaced the previously rather creative paintwork on this Airbus A319 Corporate Jet with a fairly solid one.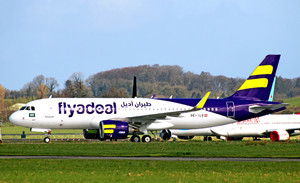 Photo by: Malcolm Nason (Date: 07.04.2020)
Airline: Flyadeal [OE-ILD / HZ-FAL]
Type: Airbus A320
Airport: Ireland, Shannon ( Limerick ) (SNN)
Comment: Flyadeal ├╝bernimmt zu Anfang aus ihrer A320neo Bestellung vakante von Tianjin Airlines nicht ├╝bernommene Flugzeuge. / Flyadeal initially takes delivery of vacant aircraft, not taken up by Tianjin Airlines from its A320neo order.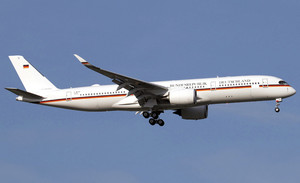 Photo by: Christian Sparr (Date: 20.03.2020)
Airline: Luftwaffe [F-WZFF / 10+03]
Type: Airbus A350-900
Airport: France, Toulouse (TLS)
Comment: Der erste Airbus A350-900 f├╝r die Luftwaffe als zuk├╝nftiges Regierungsflugzeug ist nach dem Lackieren in Finkenwerder wieder in Toulouse eingetroffen. / The first Luftwaffe Airbus A350-900 as future German government aircraft has returned to Toulouse following its paint at Finkenwerder.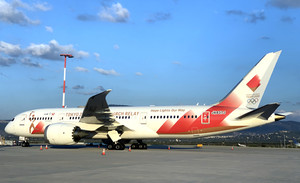 Photo by: Alex Filippopoulos (Date: 18.03.2020)
Airline: Japan Airlines [JA837J]
Type: Boeing 787-800
Airport: Greece, Athen (ATH)
Comment: Japan Airlines holte trotz gewisser Unw├Ągbarkeiten im Vorfeld der kommenden Spiele in Tokio das Olympische Feuer mit einer sonderlackierten Boeing 787-8 in Athen ab. / Despite certain uncertainties, Japan Airlines picked up the Olympic flame in Athens with a specially painted Boeing 787-8 ahead of the upcoming games in Tokyo.