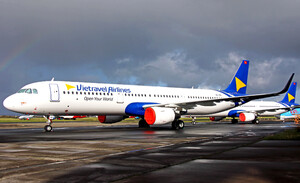 Photo by: Malcolm Nason (Date: 25.10.2020)
Airline: Vietravel Airlines [OE-IDQ]
Type: Airbus A321-200
Airport: Ireland, Shannon ( Limerick ) (SNN)
Comment: Zwei fr├╝here Thomas Cook / Condor A321-211, OE-IDP & -IDQ, haben in Shannon die Farben der Neugr├╝ndung Vietravel Airlines erhalten. / Two former Thomas Cook/Condor A321-211's, OE-IDP & -IDQ were rolled out at Shannon in the colours of newcomer Vietravel Airlines.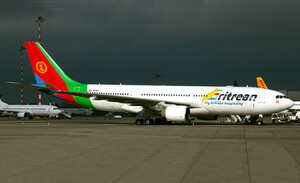 Photo by: Norbert Knott (Date: 11.10.2020)
Airline: Air Lease Corp [OE-IKY]
Type: Airbus A330-200
Airport: Germany, Duesseldorf (DUS)
Comment: Ein von Eritrean Airlines seit Jahresfrist nicht ├╝bernommener Airbus A330-200 der Air Lease Corp ist vor einem weiteren Ausw├Ąrtstermin zum Lackieren in D├╝sseldorf eingetroffen, bevor er von Nordwind Airlines ├╝bernommen wird. / This Airbus A330-200 of Air Lease Corp, Eritrean Airlines had not accepted for a year, was ferried to D├╝sseldorf prior another paint-shop date awaiting its delivery now to Nordwind Airlines.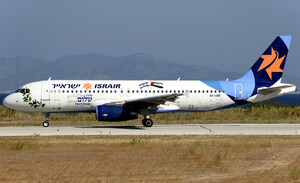 Photo by: Giuseppe Zaghini (Date: 18.09.2020)
Airline: IsrAir [4X-ABF]
Type: Airbus A320-200
Airport: Greece, Rhodos (RHO)
Comment: IsrAir zeigt Flagge zur neuen Freundschaft des Staats Israel mit den Vereinigten Arabischen Emiraten. / IsrAir flies the flag for the new friendship between the State of Israel and the United Arab Emirates.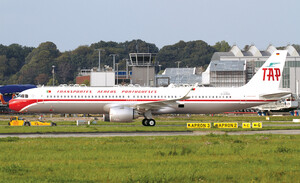 Photo by: Dirk Weinrich (Date: 11.09.2020)
Airline: TAP Air Portugal [D-AZAO / CS-TJR]
Type: Airbus A321
Airport: Germany, Hamburg - Finkenwerder (XFW)
Comment: TAP Air Portugal wartet in K├╝rze erneut mit einem Flugzeug in Retrofarben auf, diesmal auf einem Airbus A321neo. / TAP Air Portugal is shortly back with a retro-coloured aircraft, this time an Airbus A321neo.