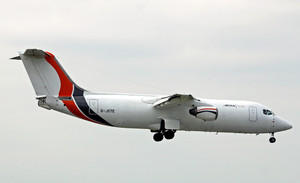 Photo by: Simon Murdoch (Date: 08.06.2018)
Airline: Jota Aviation [G-JOTE]
Type: BAe 146
Airport: , (EN)
Comment: Jota Aviation hat einen ersten BAe 146-300QT Frachter mit ihren Farben und kleinen Cargo Titeln versehen. / Jota Aviation has applied to first BAe 146-300QT freighter its full livery plus small cargo titles.
Photo by: Enzo Cattania (Date: 07.06.2018)
Airline: Nepal Airlines [F-WWCT/9N-ALY]
Type: Airbus A330-200
Airport: , France, Chateauroux (CHR) ()
Comment: Nepal Airlines, Nachfolger der Royal Nepal Airlines, steht vor der Übernahme des ersten von zwei Airbus A330-200, die von HiFly bereederrt werden. / Nepal Airlines, successor of Royal Nepal Airlines is shortly taking delivery of the first of two ordered Airbus A330-200s, to be operated by HiFly.
Photo by: Roger Bollen (Date: 06.06.2018)
Airline: ACT Air Cargo [TC-ACR]
Type: Boeing 747-400
Airport: Netherlands, Maastricht (MST)
Comment: ACT Air Cargo hat diesen bisher für Saudi Arabian Airlines eingesetzten und im November letzten Jahres bei einem Startabbruch beschädigten Boeing 747-400 Frachter jetzt mit ihrer Lackierung versehen, bevor er wieder in den Einsatz zurückkehrt. / ACT Air Cargo has now applied to this Boeing 747-400 freighter, which was previously operated for Saudi Arabian Airlines and damaged in a runway excursion on take-off in November last year, its new livery prior returning to service.
Photo by: James Mellon (Date: 25.05.2018)
Airline: Sevenair [CS-AYT]
Type: Dornier 228
Airport: , Portugal, Cascais (LPCS) ()
Comment: Sevenair hat ihre in die Jahre gekommene Lackierung auf dieser Dornier 228, die an Werktagen zu fünf Zielen im Inland eingesetzt wird, durch eine gänzlich neue ersetzt. / Sevenair has replaced its aging livery on this Dornier 228, which is used on daily weekday services to five inland destinations, by a completely new one.