Photo by: Stephen Blood (Date: 03.11.2019)
Airline: Joy Air [LN-NGR / B-20E5]
Type: Boeing 737-800
Airport: United Kingdom, Derby ( East Midlands ) (EMA)
Comment: Die chinesische Joy Air ├╝bernimmt kurzfristig zwei von Norwegian parallel ausgemusterte und in Shannon respektive East Midlands entsprechend lackierte Boeing 737-800. / Chinese Joy Air acquired at short notice two Boeing 737-800s, which had been taken out parallel of the fleet by Norwegian and painted at Shannon respectively at East Midlands.
Photo by: Timo J├Ąger (Date: 31.10.2019)
Airline: LOT Polish Airlines [SP-LNC]
Type: Embraer ERJ-195
Airport: Germany, Duesseldorf (DUS)
Comment: LOT Polish Airlines bewirbt auf dieser Embraer 195 neu einheimische Pflaumen im Schokolodenmantel. / LOT Polish Airlines promotes newly on this Embraer 195 newly home-grown prunes in a chocolate coat.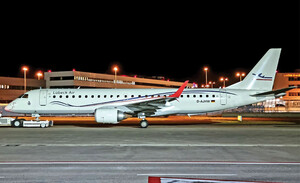 Photo by: Michael Snyder (Date: 01.11.2019)
Airline: WDL Aviation [D-AJHW]
Type: Embraer ERJ-190
Airport: Germany, Cologne ( Koeln )/Bonn (CGN)
Comment: Die beiden Zeitfrachtunternehmen WDL Aviation und LGW Luftfahrtgesellschaft Walter treten neu nach au├čen gemeinsam als German Airways auf. / Both Zeitfracht airlines, WDL Aviation and LGW Luftfahrtgesellschaft Walter are joining forces by corporate ID as German Airways.
Photo by: Morne Booij-Liewes (Date: 31.10.2019)
Airline: South African Airways [B-304Z / ZS-SDC]
Type: Airbus A350-900
Airport: South Africa, Johannesburg (JNB)
Comment: South African ├╝bernimmt f├╝r ihre Liniendienste nach Nordamerika und Fernost kurzfristig vier Airbus A350-900, zwei von Hainan Airlines zur├╝ckgegebene wie zwei von Air Mauritius auf sp├Ąter verschobene Liefertermine. / South African takes delivery of four Airbus A350-900s on short notice for its scheduled services to North America and the Far East, each two aircraft returned by Hainan Airlines and two with postponed acceptance by Air Mauritius.