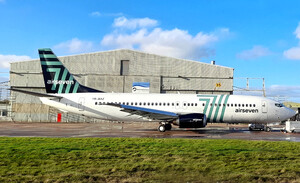 Photo by: Stephen Blood (Date: 31.10.2020)
Airline: airseven [YR-BAZ / OY-ASA]
Type: Boeing 737-400
Airport: United Kingdom, Derby ( East Midlands ) (EMA)
Comment: Airseven, eine d├Ąnische Charterneugr├╝ndung unter Federf├╝hrung fr├╝herer Manager von JetTime, Primo Tours und der Copenhagen AirTaxi will im Fr├╝hjahr mit zwei Boeing 737-400 an den Start gehen. / Airseven, a Danish charter start-up under the leadership of former managers from JetTime and Primo Tours and of Copenhagen AirTaxi, plans to launch two Boeing 737-400s in spring.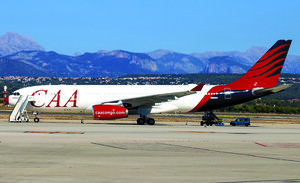 Photo by: Javier Rodr├şguez (Date: 31.10.2020)
Airline: CAA Compagnie Africaine d┬┤Aviation [EC-LQO]
Type: Airbus A330-200
Airport: Spain, Palma de Mallorca (PMI)
Comment: CAA Compagnie Africaine d┬┤Aviation ├╝bernimmt in K├╝rze eine ersten Airbus A330-200, um Br├╝ssel in absehbarer Zeit in ihrem Linienflugplan ab Kinshasa aufnehmen zu k├Ânnen. / CAA Compagnie Africaine d┬┤Aviation will shortly add a first Airbus A330-200 to its fleet in order to be able to include Brussels in their scheduled flight schedules from Kinshasa in the foreseeable future.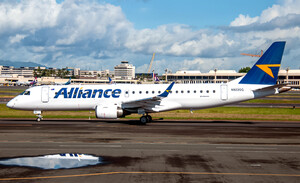 Photo by: Ivan Nishimura (Date: 28.10.2020)
Airline: Alliance Airlines [N922QQ / VH-UYZ]
Type: Embraer ERJ-190
Airport: USA, Honolulu, HI (HNL)
Comment: Alliance Airlines hat die erste von vierzehn Embraer 190 ├╝bernommen, um Teile ihrer aktuellen Fokker 100 Flotte zu ersetzen. / Alliance Airlines has taken delivery of the first of fourteen Embraer 190s to replace parts of its current Fokker 100 fleet.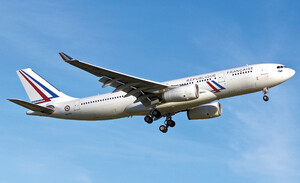 Photo by: Jean-Marie Magendie / www.hqaas.com (Date: 29.10.2020)
Airline: Arm├ęe de l┬┤Air et de l┬┤Espace [N203SA / F-UJCS]
Type: Airbus A330-200
Airport: France, Lourdes/Tarbes (LDE)
Comment: Als Ersatz ihrer beiden verbliebenen Airbus A310-300 ├╝bernimmt die Luftwaffe Frankreichs zwei tempor├Ąr in Lourdes angestellte ehemalige Avianca Brasil Airbus A330-200 in dazu revidierter Lackierung. / To replace its two remaining Airbus A310-300s, the French Air Force is adding two former Avianca Brasil Airbus A330-200s to its fleet, following storage in Lourdes and having received a revised livery.