Photo by: Diego Ruiz de Vargas (Date: 03.05.2017)
Airline: Vueling [EC-MNZ]
Type: Airbus A320-200
Airport: Spain, Madrid, Barajas (MAD)
Comment: Rund 77 Monate nach dem Namenswechsel von Click Airways zu Vueling begrüßte die Fluggesellschaft dieser Tage ihren 100-millionsten Fluggast. / About 77 months after its ID-change from Click Airways to Vueling the airline could welcome these days its 100 millionth passenger.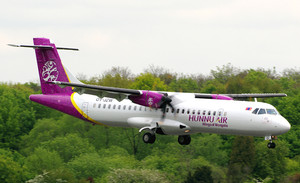 Photo by: Thomas Rings (Date: 03.05.2017)
Airline: Hunnu Air [OY-JZW / JU-8802]
Type: ATR 72
Airport: , (MGL)
Comment: Hunnu Air übernimmt in Kürze eine zweite von der Nordic Aviation Capital gemietete ATR 72-500, die vor der Auslieferung in Toulouse Francazal lackiert wurde. / Hunnu Air is to take soon delivery of a second ATR 72-500, leased from Nordic Aviation Capital, which has been painted in Toulouse Francazal.
Photo by: Ivan Nishimura (Date: 01.05.2017)
Airline: Hawaiian Airlines [N488HA]
Type: Boeing 717
Airport: USA, Honolulu, HI (HNL)
Comment: Hawaiian Airlines hat nach 16 Jahren ohne Änderungen ihr noch etwas kreativer gestaltetes Logo wie eine teil-revidierte Lackierung vorgestellt, wie bisher ein Hinweis auf Pualani, die himmlischen Blume und die sprichwörtliche hawaiianische Gastfreundschaft nicht nur der bereits 88 Jahre alten Fluggesellschaft. / Hawaiian Airlines has unveiled after 16 years without changes a refreshed logo, livery and overall creative look that honor Pualani, the heavenly flower, and the Hawaiian hospitality not only of the 88 year old carrier.
Photo by: Paul Sanders (Date: 01.05.2017)
Airline: Croatia Airlines [EC-MNR]
Type: Canadair CRJX
Airport: Belgium, Brussels (BRU)
Comment: Croatia Airlines hat den ersten von zwei Air Nostrum Canadair CRJ1000 in Dienst gestellt, die über den Sommer unter Vertrag genommen wurden. / Croatia Airlines has introduced the first of two Air Nostrum Canadair CRJ1000s, contracted for the summer, to its fleet.