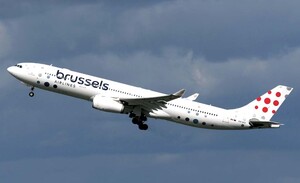 Photo by: Paul Sanders (Date: 07.04.2022)
Airline: Brussels Airlines [OO-SFX]
Type: Airbus A330-300
Airport: Belgium, Brussels (BRU)
Comment: Nach einem GroĂźteil der Kurzstreckenflotte hat bei Brussels Airlines jetzt auch ein erster Airbus A330-300 die neue Lackierung erhalten. / Following the major part of the short-haul fleet, a first Airbus A330-300 at Brussels Airlines has now also received the new livery.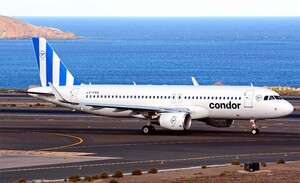 Photo by: José Hernández Leon (Date: 06.04.2022)
Airline: Bulgaria Air [LZ-FBG]
Type: Airbus A320-200
Airport: Spain, Las Palmas (LPA)
Comment: Dieser seitens Condor von Bulgaria Air unter Vertrag genommene Airbus A320-200 trägt bereits eine interessante Hybrid-Variante. / This Airbus A320-200 wet-leased by Condor from Bulgaria Air already carries an interesting hybrid livery variant.
Photo by: Eurospot (Date: 04.04.2022)
Airline: Condor [F-WWCS]
Type: Airbus A330
Airport: France, Toulouse (TLS)
Comment: Condor erfindet sich gerade neu, inspiriert von Sonnenschirmen, Badetüchern oder auch Sonnenmarkisen in fünf verschiedenen Farben ist der neue Auftritt ein auffälliger unverwechselbarer Hingucker. / Condor is currently reinventing itself, inspired by parasols, bath towels or sun awnings in five different colours; the new appearance is a striking, unmistakable eye-catcher.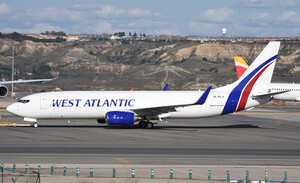 Photo by: José Ramón Valero (Date: 13.03.2022)
Airline: West Atlantic Sweden [SE-RLJ]
Type: Boeing 737-800
Airport: Spain, Madrid, Barajas (MAD)
Comment: West Atlantic Sweden hat ihre vierte Boeing 737-800 in den Farben ihres spanischen Mehrheitseigners Swiftair ĂĽbernommen. / West Atlantic Sweden has taken delivery of its fourth Boeing 737-800 in the scheme of its Spanish majority owner, Swiftair.