Photo by: Danny@planes.cz (Date: 05.05.2017)
Airline: Turkish Airlines [TC-JRO]
Type: Airbus A321-200
Airport: Czech Republic, Prague (PRG)
Comment: Turkish Airlines hat diesen A321-200 mit Aufklebern zu ihrer bisher erfolgreichen Teilnahme an der EuroLeague versehen. / Turkish Airlines has applied decals to this A321-200 to promote its so far successful EuroLeague participation.
Photo by: Matt Varley (Date: 03.05.2017)
Airline: Icelandair [TF-FIR]
Type: Boeing 757-200
Airport: United Kingdom, Norwich (NWI)
Comment: Icelandair hat zum 80-jährigen Jubiläum eine weitere Boeing 757-200 mit einer Sonderlackierung versehen. / For its 80th anniversary, Icelandair has applied another great livery to one of its Boeing 757-200s.
Photo by: Diego Ruiz de Vargas (Date: 03.05.2017)
Airline: Vueling [EC-MNZ]
Type: Airbus A320-200
Airport: Spain, Madrid, Barajas (MAD)
Comment: Rund 77 Monate nach dem Namenswechsel von Click Airways zu Vueling begrüßte die Fluggesellschaft dieser Tage ihren 100-millionsten Fluggast. / About 77 months after its ID-change from Click Airways to Vueling the airline could welcome these days its 100 millionth passenger.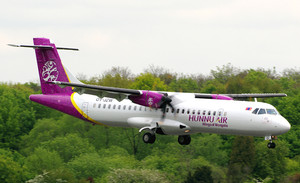 Photo by: Thomas Rings (Date: 03.05.2017)
Airline: Hunnu Air [OY-JZW / JU-8802]
Type: ATR 72
Airport: , (MGL)
Comment: Hunnu Air übernimmt in Kürze eine zweite von der Nordic Aviation Capital gemietete ATR 72-500, die vor der Auslieferung in Toulouse Francazal lackiert wurde. / Hunnu Air is to take soon delivery of a second ATR 72-500, leased from Nordic Aviation Capital, which has been painted in Toulouse Francazal.