Photo by: John Coates (Date: 31.01.2018)
Airline: Finas Airways [2-LCXO]
Type: BAe Jetstream 31 / 32
Airport: , United Kingdom, Bournemouth-Hurn (BOH) ()
Comment: Firnas Airways stellte sich am 31. Januar in Oxford mit ersten Demo-Flügen bei ihren (potentiellen) Investoren vor, die größere Beträge in den neugegründeten Nischenanbieter stecken, um so das notwendige Startkapital zu beschaffen. / Firnas Airways conducted first demo flights on January 31st at Oxford for investors who have invested and potential investors looking to invest large amounts in this start-up niche carrier financed through fundraising.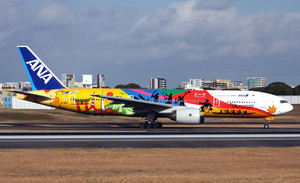 Photo by: Shingo Takahashi (Date: 27.01.2018)
Airline: ANA All Nippon [JA741A]
Type: Boeing 777-200
Airport: , (ITM)
Comment: Die Blicke zieht neu diese für die Olympischen und Paraolympischen Spiele in zwei Jahren in Tokio als "Hello 2020 Jet" speziell lackierte ANA All Nippon Boeing 777-200 auf sich, die nur im Inland eingesetzt wird / Toward the Olympic and Paralympic Games in Tokyo in two years' time, this ANA All Nippon Boeing 777-200 attracts newly attention on Japan domestic routes with a special "Hello 2020 Jet" livery.
Photo by: Derin Allard (Date: 24.01.2018)
Airline: Alaska Airlines [N625VA]
Type: Airbus A320-200
Airport: , USA, Victorville (VCV) ()
Comment: Nicht ganz unerwartet hat bereits ein erster Virgin Amerca Airbus A320 nach dem kürzlichen Abschluss der Übernahme die Farben der Alaska Airlines erhalten. / Not surprisingly, already a first Virgin America Airbus A320 received the colours of Alaska Airlines after recent completion of the acquisition.
Photo by: Alejandro León Hernández. (Date: 23.01.2018)
Airline: Mauritania Airlines [5T-CLJ]
Type: Boeing 737-8max
Airport: Spain, Las Palmas (LPA)
Comment: Die kürzlich übernommene erste Boeing 737-8max der Mauritania Airlines und zugleich erste auf dem Kontinent traf zu einem Antrittsbesuch auch auf Las Palmas ein. / The very recently delivered first Boeing 737-8max of Mauritania Airlines, a well first on the continent arrived for an inaugural visit at Las Palmas.