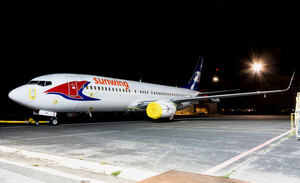 Photo by: Milan Cibulka (Date: 10.07.2020)
Airline: Sunwing Airlines [OK-TVF]
Type: Boeing 737-800
Airport: Czech Republic, Prague (PRG)
Comment: Sunwing Airlines stockt ihre bereits wieder aktivierte Boeing 737-800 Flotte in KĂĽrze um diese gemietete Schwestermaschine in Travel Service Farben auf. / Sunwing Airlines is shortly topping up its already reactivated Boeing 737-800 fleet with this leased sister-ship keeping the current Travel Service scheme.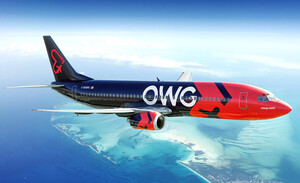 Photo by: Illustration by Henry Lam / Lila Design (Date: 00.07.2020)
Airline: Nolinor Aviation [C-GGWX]
Type: Boeing 737-400
Airport: , air-to-air ()
Comment: Nolinor Aviation wird mit ihren sukzessive drei Boeing 737-400 ihr bisheriges Chartergeschäft ab Quebec unter dem Namen OWG (Off We Go) ausweiten und hat dafür einen entsprechenden zeitgemäßen Markenauftritt von Lila Design ausarbeiten lassen. / With its successive three Boeing 737-400s, Nolinor Aviation will expand its present charter business from Quebec under the name OWG (Off We Go) using a corresponding new contemporary brand developed by Lila Design.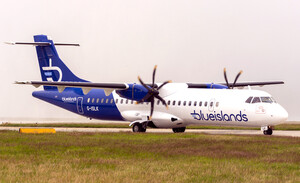 Photo by: Graham Hocquard (Date: 08.07.2020)
Airline: Blue Islands [G-ISLK]
Type: ATR 72
Airport: United Kingdom, Jersey (JER)
Comment: Blue Islands ist nach der flyBe-Pleite wieder als selbstständiges Unternehmen hervorgegangen und hat eine erste ATR 72-500 mit eigenen, dazu revidierten Farben versehen, hier bei der Rückkehr aus Norwich. / Blue Islands have emerged from the flyBe failure and has been rebranded with the first of its ATR 72-500s seen here returning from Norwich after paint.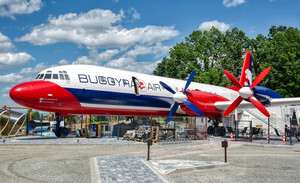 Photo by: Petr Nesmerák (Date: 30.06.2020)
Airline: CSA Czechoslovenske Aerolinie [OK-WAJ]
Type: Ilyushin Il-18
Airport: , Czech Republic, Bakov nad Jizerou ()
Comment: Diese 1984 nach 17 Dienstjahren stillgelegte Ilyushin 18 der CSA wird seit rund 15 Jahren unweit einer Autobahn in Mittelböhmen als Werbeträger und Restaurant genutzt. In diesem Frühjahr hat sie die Farben des hiesigen Traditionsunternehmen Buggyra Racing erhalten. / This decommissioned CSA Ilyushin 18 has newly been contracted by the traditional company Buggyra Racing as an advertising medium.