Photo by: Vasileios Kokkotas (Date: 02.04.2018)
Airline: Olympus Airways [SX-ABY]
Type: Airbus A321-200
Airport: Greece, Athen (ATH)
Comment: Olympus Airways setzt diesen von Monarch Airlines übernommenen Airbus A321-200 in einer interessanten Mischlackierung aber auch mit eigenen Titeln wie Leitwerksemblem ein. / Olympus Airways will operate this former Monarch Airlines Airbus A321-200 in an interesting hybrid livery but also with its own titles and tail logo.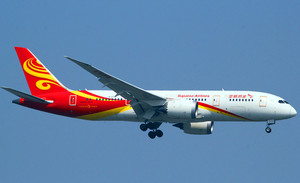 Photo by: Paul Sanders (Date: 01.04.2018)
Airline: Suparna Airlines [B-2738]
Type: Boeing 787-800
Airport: , (PVG)
Comment: Hainen Airline hat einen ersten Dreanlimer an ihre Tochter Suparna Airlines transferiert, die bislang auf dem Passagiersektor nur Boeing 737-800 eingesetzt hat. / Hainan Airline has transferred a first Dreanlimer to its subsidiary Suparna Airlines, having operated so far only Boeing 737-800s in the passenger sector.
Photo by: Jorge Rivas (Date: 01.04.2018)
Airline: Dynamic International Airways [N798JM]
Type: Boeing 767-300
Airport: USA, Miami, FL (MIA)
Comment: Dynamic International Airways hat eine erste Boeing 767-300 mit Swift Air Farben versehen, Teil des neu eingeschlagenen gemeinsamen Weges der beteiligten Investoren. / Dynamic International Airways introduced the Swift Air livery on a first Boeing 767-300 as part of joined forces under one shareholder umbrella.
Photo by: Laurent Greder (Date: 31.03.2018)
Airline: Saudi Oger [HZ-HR5]
Type: Boeing 737-800
Airport: Switzerland, Basel (BSL)
Comment: Während einer Hauptwartung erhielt der Boeing Business Jet der Saudi Oger eine neue Lackierung in zeitgemäßen Wellendesign und mit filigranem Logo. / During major maintenance, the Boeing Business Jet of Saudi Oger received a new livery in contemporary wave design and with a filigree logo.