Photo by: Keith Newsome (Date: 17.03.2016)
Airline: TUI Airlines Germany [D-ATUG]
Type: Boeing 737-800
Airport: , United Kingdom, Norwich (NWI) ()
Comment: Die neueste von TUI Airlines Germany vermarktete hauseigene Hotelmarke sind die Magic Life Clubs, der noch mindestens zwei weitere folgen sollen. / The latest inhouse hotel brand marketed by TUI Airlines Germany are the Magic Life Clubs, with apparently minimum two more special schemes to follow.
Photo by: José Ramón Valero (Date: 16.03.2016)
Airline: Air Europa [EC-MIG]
Type: Boeing 787-800
Airport: Spain, Madrid, Barajas (MAD)
Comment: Air Europa hat ihren ersten Dreamliner nach der Landung in Madrid mit traditionellen Wasserkanonen begrüßt. / Air Europa has greeted at Madrid upon landing its first Dreamliner with a traditional water canon salute.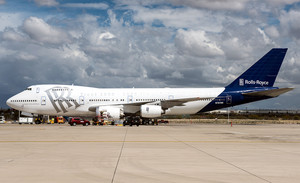 Photo by: Dietmar Schreiber (Date: 08.03.2016)
Airline: Rolls Royce [N787RR]
Type: Boeing 747-200
Airport: , (TUC)
Comment: Rolls Royce hat ihren fliegenden Trent-Triebwerkstand mit einer neuen Lackierung versehen, der das Trent 1000 als tausendmal bessere Alternative für die 787 bewirbt. / Rolls Royce has applied to its flying Trent engine test-bed a new livery promoting the Trent 1000 as the 1000 times better option for the 787.
Photo by: Yann Parmentier (Date: 15.03.2016)
Airline: République du Mali [TZ-PRM]
Type: Boeing 737-700
Airport: Switzerland, Basel (BSL)
Comment: Die Titel auf dem Boeing Business Jet der Regierung Malis sind während kürzlichen Wartungsarbeiten in Basel mächtig gewachsen. / The titles on the Mali government Boeing Business Jet have grown powerful during a recent maintenance visit at Basel.