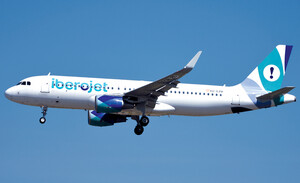 Photo by: Jos├ę Ram├│n Valero (Date: 23.03.2021)
Airline: Iberojet [EC-LZD]
Type: Airbus A320-200
Airport: Spain, Madrid, Barajas (MAD)
Comment: Als erstes Flugzeug der bisherigen Evelop Airlines hat dieser Airbus A320-200 mit ihren neuen Iberojet Titeln den neuen Namen der Fluggesellschaft erhalten. / As the first aircraft of former Evelop Airlines, this Airbus A320-200 has received with Iberojet titles the airline's new name.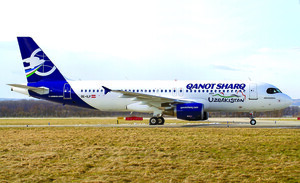 Photo by: Jan Jurecka (Date: 23.03.2021)
Airline: Qanot Sharq Airlines [OE-ILF]
Type: Airbus A320-200
Airport: , Czech Republic, Ostrava (OSR) ()
Comment: Qanot Sharq Airlines als erste private Fluggesellschaft Usbekistans ├╝bernimmt in K├╝rze zwei Airbus A320-200. / Qanot Sharq Airlines as first privately owned airline in Uzbekistan will shortly take delivery of two Airbus A320-200s.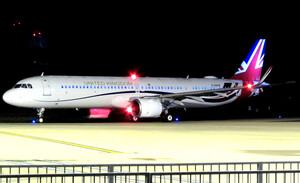 Photo by: Michael Pierce (Date: 19.03.2021)
Airline: Titan Airways [G-XATW]
Type: Airbus A321
Airport: , United Kingdom, Norwich (NWI) ()
Comment: Titan Airways setzt ihren ersten A321neo als Folge der Corona-Pandemie nicht f├╝r TCS World Travel sondern f├╝r die britische Regierung ein. / As a result of the corona pandemic, Titan Airways is not operating using its first A321neo on behalf of TCS World Travel but for the UK government.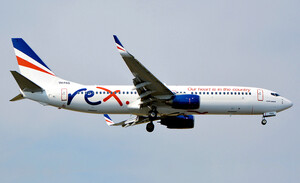 Photo by: Brian Wilkes (Date: 19.03.2021)
Airline: REX Regional Express [VH-PAG]
Type: Boeing 737-800
Airport: Australia, Brisbane (BNE)
Comment: REX Regional Express hat in Erwartung einer Resonanz ihrer Flugg├Ąste eine ihrer Boeing 737-800 mit roten anstatt blauen Titeln versehen. / In anticipation of a response from its passengers, REX Regional Express has given one of its Boeing 737-800s red instead of blue titles.