Photo by: Matt Varley (Date: 08.11.2017)
Airline: Transavia [PH-HSI]
Type: Boeing 737-800
Airport: , United Kingdom, Norwich (NWI) ()
Comment: Transavia hat zu ihrem 50-jährigen Bestehen eine Sonderlackierung mit dem Peter Pan Ferienklub vorgestellt, eine von einem ihrer Kabinenchefs im Jahr 1995 gegründeten Wohltätigkeitsorganisation, die von der Fluggesellschaft seit Jahren unterstützt wird. / Transavia has introduced a logojet in honour of its fifty-year jubilee, featuring the Peter Pan Vacation Club, a charity - founded in 1995 by one of its pursers - the airline is supporting for years.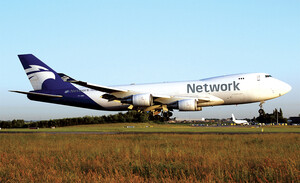 Photo by: Lee Collins (Date: 06.11.2017)
Airline: Astral Aviation [TF-AMU]
Type: Boeing 747-400
Airport: United Kingdom, Manchester (MAN)
Comment: Das kenianische Frachtunternehmen Astral Aviation mietet neu einen Boeing 747-400 Frachter in eigener Lackierung von Air Atlanta Icelandic. / Kenyan freight company Astral Aviation is wet-leasing a Boeing 747-400 freighter in its own house livery from Air Atlanta Icelandic.
Photo by: Giorgio Castano (Date: 06.11.2017)
Airline: Neos [I-NEOS]
Type: Boeing 737-800
Airport: , Czech Republic, Ostrava (OSR) ()
Comment: Neos leistet mit einer Boeing 737-800 für vorläufig acht Monate Unterstützungsarbeit bei der neugegründeten Samoa Airways. / Neos is providing support for newly established Samoa Airways with a Boeing 737-800 for initially eight months.
Photo by: Tristar (Date: 05.11.2017)
Airline: DHL Air [G-BHKK]
Type: Boeing 757-200
Airport: United Kingdom, Birmingham (BHX)
Comment: DHL hat die Vorbereitungen zur zweiten Staffel von The Grand Tour, einer bemerkenswerten Film-Autoshow begleitet und bewirbt den neuen Filmstreifen jetzt auf einer ihrer Boeing 757 Frachter. / As DHL has provided support for the second season of The Grand Tour, a remarkable movie car show, it is now promoting the new film on one of its Boeing 757 freighters.