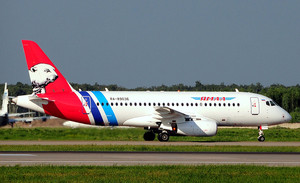 Photo by: Cédric Soltys (Date: 03.06.2016)
Airline: Yamal Airlines [RA-89036]
Type: Sukhoi RRJ95
Airport: , (DME)
Comment: Yamal Airlines hat die ersten drei von fünfzehn geplanten Sukhoi SuperJets in Dienst gestellt. / Yamal Airlines has introduced the first three of fifteen planned Sukhoi Super jet to its fleet.
Photo by: Romain Salerno (Date: 08.06.2016)
Airline: Ethiopian Airlines [F-WZGM / ET-ATQ ]
Type: Airbus A350-900
Airport: France, Toulouse (TLS)
Comment: Ethiopian Airlines wird der erste Airbus A350 Betreiber des afrikanischen Kontinents sein. / Ethiopian Airlines will be the first Airbus A350 operator on the African continent.
Photo by: Paul Zethof (Date: 07.06.2016)
Airline: Rossiya Airlines [EI-UNN]
Type: Boeing 777-300
Airport: Netherlands, Amsterdam, Schiphol (AMS)
Comment: Nach drei Boeing 747-400 steht Rossiya Airlines jetzt auch vor der Übernahme einer ersten Boeing 777-300 aus Transaero Beständen, nachdem sie in Amsterdam lackiert wurde. / After three Boeing 747-400s Rossiya Airlines is to introduce shortly now as well a first former Transaero Boeing 777-300 to its fleet, having been painted at Amsterdam.
Photo by: Bobby Skirde (Date: 29.05.2016)
Airline: Air Zimbabwe [Z-WPA]
Type: Boeing 737-200
Airport: South Africa, Johannesburg (JNB)
Comment: Air Zimbabwe hat eine erste Boeing 737-200 mit den aktuellen Farben versehen wie sie bisher nur von den beiden Airbus A320 getragen wurden. / Air Zimbabwe has applied is latest livery, worn so far by its two Airbus A320s, to a first Boeing 737-200.