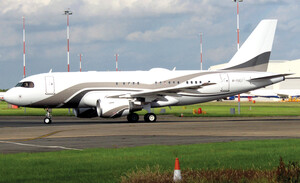 Photo by: Michael Pierce (Date: 07.07.2021)
Airline: Prime Value Trading [M-YULI]
Type: Airbus A319-100
Airport: , United Kingdom, Norwich (NWI) ()
Comment: Prime Value Trading hat die bisherige AMAC Lackierung auf ihrem ersten A319 Corporate Jet durch ein hauseigenes Design ersetzt. / Prime Value Trading has replaced the previous AMAC scheme on its first A319 Corporate Jet with an in-house design.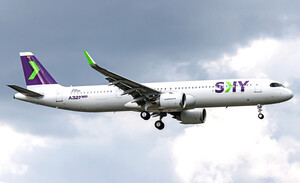 Photo by: Dirk Grothe (Date: 07.07.2021)
Airline: Sky Airline [D-AYAR / CC-DCA]
Type: Airbus A321
Airport: Germany, Hamburg - Finkenwerder (XFW)
Comment: Sky Airline ├╝bernimmt insgesamt 14 Airbus A21neo, ab der Nummer f├╝nf folgen zehn in der Version LR. / Sky Airline is to acquire a total of 14 Airbus A21neo aircraft, from number five onwards including ten of the LR version.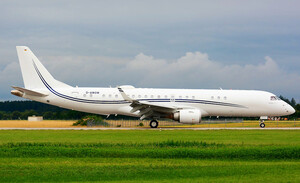 Photo by: M.L. (Date: 07.07.2021)
Airline: Air Hamburg [D-AWOW]
Type: Embraer ERJ-190
Airport: , Germany, Oberpfaffenhofen (OBF) ()
Comment: Air Hamburg hat die erste von zwei Embraer Lineage ├╝bernommen, der nach dem Lackieren in Bydgoszcz f├╝r EASA Modifikationen nach Oberpfaffenhofen ├╝berstellt wurde. / Air Hamburg accepted the first of two Embraer Lineage, which was ferried to Oberpfaffenhofen for EASA modifications after painting in Bydgoszcz.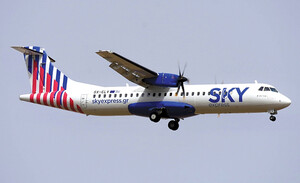 Photo by: Alex Maras (Date: 01.07.2021)
Airline: Sky Express [SX-ELV]
Type: ATR 72
Airport: Greece, Athen (ATH)
Comment: Sky Express hat eine erste fabrikneue ATR 72-600 ├╝bernommen, die in der attraktiven Lackierung der A320neo Flotte eingesetzt wird. / Sky Express has taken delivery of a first brand new ATR 72-600 wearing the attractive livery of their A320neo fleet.