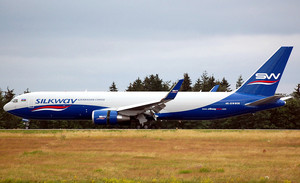 Photo by: Peter Schmitt (Date: 17.07.2012)
Airline: Silkway West Airlines [4K-SW808]
Type: Boeing 767-300
Airport: , (HHN)
Comment: Der erste Boeing 767-300 Frachter der Silkway West Airlines kam erstmals nach Westeuropa zum Einsatz. / The first Boeing 767-300 freighter of Silkway West Airlines was operated for the first time to Western Europe.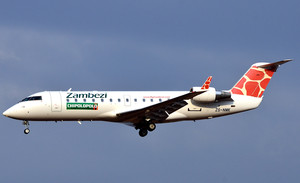 Photo by: Bobby Skirde (Date: 22.06.2012)
Airline: Zambezi Airlines [ZS-NMK]
Type: Canadair CRJ200
Airport: , (NB)
Comment: Zambezi Airlines ist wie geplant wieder an den Start gegangen. Etwas kleiner mit einem gemieteten CRJ200, der zusätzliche Chipolopolo Titel trägt, der Name der einheimischen Fußballmannschaft, die kürzlich den Titel im afrikanischen AFCON 2012 Cup holte. / Zambezi Airlines has restarted operations as planned. Much smaller with a leased CRJ200 wearing additional Chipolopolo titles, the Zambian national football team that recently won the AFCON 2012 Football tournament.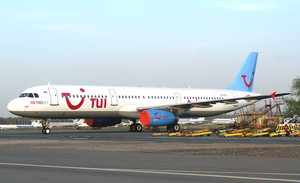 Photo by: Kirill Naumenko - Moscow City Spotters (Date: 29.04.2012)
Airline: MetroJet [EI-ETJ]
Type: Airbus A321-200
Airport: , (DME)
Comment: Nach der Übernahme der Kolavia durch die TUI Russia & CIS wird die Fluggesellschaft zum 1. Mai in MetroJet umbenannt und setzt vier A321-200. / Having been acquired by TUI Russia & CIS Kolavia will be rebranded by May 1st into MetroJet operating four A321s.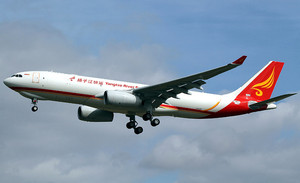 Photo by: Christian Sparr (Date: 08.03.2012)
Airline: Yangtze River Express [F-WWKT]
Type: Airbus A330-200
Airport: , (TL)
Comment: Der erste A330-200 Frachter für Yangtze River Express steht mit dem Erstflug vor seiner absehbaren Ablieferung. / The first A330-200 freighter of Yangtze River Express is due for delivery shortly following its first flight.