Photo by: Spiros Kastamonitis (Date: 04.10.2018)
Airline: Silverstone Air Services [2-ELIX]
Type: De Havilland Dash 8-300
Airport: Greece, Corfu (CFU)
Comment: Die kenianische Silverstone Air Services hat eine erste Dash 8-300 übernommen, die über Korfu ausgeliefert wurde. / Kenyan Silverstone Air Services acquired a first Dash 8-300, seen here leaving Corfu after fuel-stop.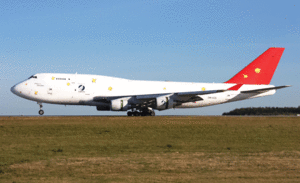 Photo by: Frederik Neeb (Date: 29.09.2018)
Airline: Air Cargo Global [OM-ACG]
Type: Boeing 747-400
Airport: , (HHN)
Comment: Air Cargo Global ist nach einer rund dreimonatigen Unterbrechung mit zwei ihrer drei Boeing 747-400 Frachter wieder an den Start gegangen. Diese, versehen mit Sternen und Planten und dem Namen Prinzess Kristina ab Hahn, Mailand und Budapest in Zusammenarbeit mit Aquiline International auf Umläufen der Silkway Airlines zum Einsatz, ein anderer der beiden zeitweise in Sharjah abgestellten von dort nach Kandahār in Afghanistan. / Air Cargo Global has returned two of its three Boeing 747-400 freighters after a three months break back into service. This one, now showing stars and planets has been named Princess Kristina since and is used from Hahn, Milan and Budapest in cooperation with Aquiline International on Silkway Airlines rotations, while one the two aircraft temporarily parked in Sharjah has received a contract from there to Kandahar in Afghanistan.
Photo by: Radim Koblížka (Date: 01.10.2018)
Airline: TAG Aviation UK [G-OACJ]
Type: Airbus A319-100
Airport: , Czech Republic, Ostrava (OSR) ()
Comment: Dieser Airbus A319 Corporate Jet der TAG Aviation UK hat vor der Abgabe an einen Betreiber im arabischen Raum eine neue Lackierung erhalten. / This TAG Aviation UK Airbus A319 Corporate Jet has received a new livery prior hand-over to an operator in the Near East.
Photo by: Michael Carter (Date: 27.09.2018)
Airline: jetBlue [N779JB]
Type: Airbus A320-200
Airport: USA, Long Beach, CA (LGB)
Comment: Dieser Airbus A320-200 der jetBlue trägt seit Mitte September neu den Namen Bluericua, in Anlehnung an die aktuelle Sonderlackierung, um dem Tourismus nach Puerto Rico zu unterstützen und Elemente der "La Isla Del Encanto" beinhaltet. / This jetBlue Airbus A320 jetBlue is carrying the name Bluericua since mid-September, with the introduction of this special livery to support tourism to Puerto Rico which includes elements of "La Isla Del Encanto".