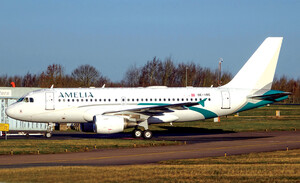 Photo by: Stephen Blood (Date: 02.12.2021)
Airline: Amelia International [OE-IRC / F-HDSJ]
Type: Airbus A319-100
Airport: United Kingdom, Derby ( East Midlands ) (EMA)
Comment: Amelia International hat ihre aktuelle Turboprop- und Regionaljetflotte um einen ersten Airbus A319-100 ergänzt. / Amelia International has added a first Airbus A319-100 to its current turboprop and regional jet fleet.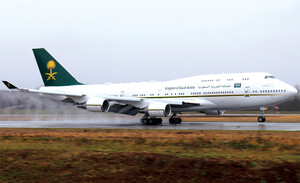 Photo by: David Levain (Date: 28.11.2021)
Airline: Kingdom of Saudi Arabia [HZ-HM1]
Type: Boeing 747-400
Airport: Switzerland, Basel (BSL)
Comment: Die VIP Boeing 747-400 der saudischen Regierung hat in Toulouse nach einem Kabinenumbau in Basel eine neue Lackierung erhalten, wie sie bereits von den beiden Boeing Business Jets des einheimischen Finanzministeriums getragen wird. / After a cabin reconfiguration in Basel, Saudi government's VIP Boeing 747-400 has received in Toulouse as well a new livery, well known from the pair of Boeing Business Jets in service with the local Ministry of Finance.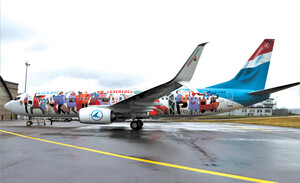 Photo by: Serge Braun (Date: 26.11.2021)
Airline: Luxair [LX-LBA]
Type: Boeing 737-800
Airport: Luxemburg, Luxemburg (LUX)
Comment: Mit einer bunten Sonderbemalung bewirbt Luxair die zweitgrößte Stadt im Großherzogtum, Esch-sur-Alzette und Europas Kulturhauptstadt für das kommende Jahr. / With a colourful scheme, Luxair is promoting the second largest city in the Grand Duchy, Esch-sur-Alzette and Europe's cultural capital in the coming year.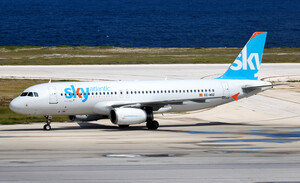 Photo by: Roger Cannegieter (Date: 18.11.2021)
Airline: Aura Airlines [EC-NOZ]
Type: Airbus A320-200
Airport: Netherlands Antilles, Curacao (CUR)
Comment: Dieser Aura Airlines Airbus A320-200 wurde über Surinam Airways von Sky Atlantic Vacations unter Vertrag genommen und verbindet Miami mit Suriname und niederländischen Karibikzielen. / This Aura Airlines Airbus A320-200 has been contracted through Surinam Airways by Sky Atlantic Vacations connecting Miami with Suriname and Dutch Caribbean with destinations.