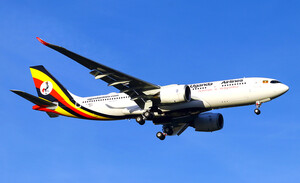 Photo by: Eurospot (Date: 17.11.2020)
Airline: Uganda Airlines [F-WWYS / 5X-NIL]
Type: Airbus A330
Airport: France, Toulouse (TLS)
Comment: Der erste von zwei bestellten Airbus A330-800 der Uganda Airlines hat seine Flugzertifizierung aufgenommen. / Uganda Airlines' first of two ordered Airbus A330-800 has started its flight certification.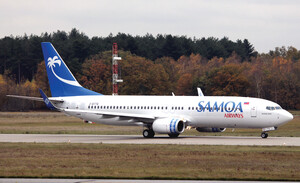 Photo by: Jordy Belde (Date: 13.11.2020)
Airline: Samoa Airways [2-BTTB]
Type: Boeing 737-800
Airport: , Netherlands, Woensdrecht (WOE) ()
Comment: Samoa Airways mietet in Kürze eine recht neue Boeing 737-800 als Ersatz einer zuvor angedachten Boeing 737-9max, um den Flugbetrieb wieder aufnehmen zu können. / Samoa Airways will soon lease a fairly new Boeing 737-800 to replace a previously planned Boeing 737-9max in order to resume flight operations.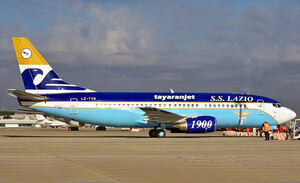 Photo by: Romaspotters (Date: 13.11.2020)
Airline: TayaranJet [LZ-TYR]
Type: Boeing 737-300
Airport: Italy, Rome - Ciampino (CIA)
Comment: Die bulgarische vorrangig ab Italien tätige TayaranJet als Partner des Sportvereins Società Sportiva Lazio, vor allem bekannt im Fußball als Lazio Rom, hat eine ihrer Boeing 737-300 mit einer entsprechenden Sonderlackierung versehen. / Bulgarian TayaranJet, which mainly operates from Italy, has applied as partner of sports club Società Sportiva Lazio, well known in football as s.s. Lazio, to one of its Boeing 737-300s a corresponding special livery.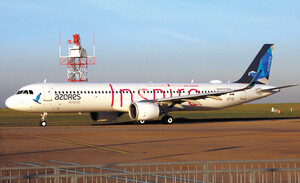 Photo by: Mark Connett (Date: 06.11.2020)
Airline: Azores Airlines [CS-TSI]
Type: Airbus A321
Airport: , United Kingdom, Norwich (NWI) ()
Comment: Sich von der Inselgruppe inspirieren zu lassen, lautet das Thema auf dem vierten Airbus A321neo der Azores Airlines, der seine Lackierung nach der Auslieferung in Norwich erhalten hat. / To be inspired by the archipelago is the theme on the fourth Azores Airlines Airbus A321neo, which was painted in Norwich after delivery.