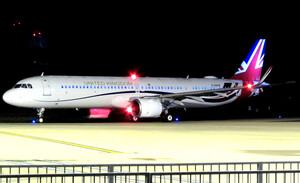 Photo by: Michael Pierce (Date: 19.03.2021)
Airline: Titan Airways [G-XATW]
Type: Airbus A321
Airport: , United Kingdom, Norwich (NWI) ()
Comment: Titan Airways setzt ihren ersten A321neo als Folge der Corona-Pandemie nicht f├╝r TCS World Travel sondern f├╝r die britische Regierung ein. / As a result of the corona pandemic, Titan Airways is not operating using its first A321neo on behalf of TCS World Travel but for the UK government.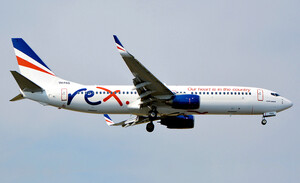 Photo by: Brian Wilkes (Date: 19.03.2021)
Airline: REX Regional Express [VH-PAG]
Type: Boeing 737-800
Airport: Australia, Brisbane (BNE)
Comment: REX Regional Express hat in Erwartung einer Resonanz ihrer Flugg├Ąste eine ihrer Boeing 737-800 mit roten anstatt blauen Titeln versehen. / In anticipation of a response from its passengers, REX Regional Express has given one of its Boeing 737-800s red instead of blue titles.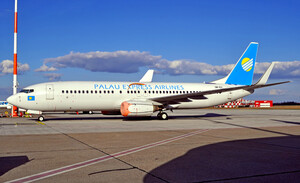 Photo by: Peter Pšenica (Date: 15.03.2021)
Airline: AirExplore [OM-IEX]
Type: Boeing 737-800
Airport: Slovakia, Bratislava (BTS)
Comment: AirExplore ist wieder im Gesch├Ąft im Pazifik und wird ab Mai diese Boeing 737-800 f├╝r die Neugr├╝ndung Palau Express Airlines einsetzen. / AirExplore is back in business in the Pacific and will operate this Boeing 737-800 on behalf of newcomer Palau Express Airlines from May.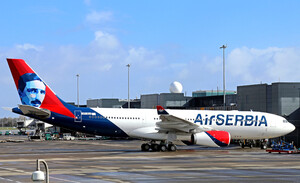 Photo by: Malcolm Nason (Date: 13.03.2021)
Airline: Air Serbia [VP-BLY / YU-ARB]
Type: Airbus A330-200
Airport: Ireland, Shannon ( Limerick ) (SNN)
Comment: Das Leitwerk des zweiten Air Serbia Airbus A330-200 zeigt den f├╝r seine zahlreiche Neuerungen auf dem Gebiet der Elektrotechnik weltweit bekannten Erfinder Nicola Tesla. / The tail of the second Air Serbia Airbus A330-200 shows the inventor Nicola Tesla, known in the world for his numerous innovations in the field of electrical engineering.