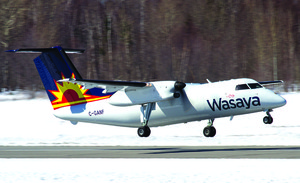 Photo by: Andrew Cline (Date: 25.03.2017)
Airline: Wasaya Airways [C-GANF]
Type: De Havilland Dash 8-100
Airport: , (YYB)
Comment: Voyageur Aviation stellte am 20. April 2017 den ersten Dash 8-100PF Paketfrachter vor, der von ihr in ihrem Aerotech Werk in North Bay, Ontario entworfen, konstruiert und umgebaut wurde. / Voyageur Aviation unveiled the first-of-its-kind Dash 8-100PF Package Freighter on April 20th 2017, designed, engineered and converted at its Aerotech facility in North Bay, Ontario prior delivery to Wasaya Airways.
Photo by: Lewis Grant (Date: 21.04.2017)
Airline: Loganair [G-LGNN]
Type: Saab 340
Airport: United Kingdom, Glasgow (GLA)
Comment: Die wieder unabhängige Loganair hat als erstes einen Saab 340 Frachter mit ihrer schicken neuen Lackierung versehen, die nach ihrer Abspaltung von der flyBe flottenweit eingeführt wird. / Newly independent Loganair have introduced a great new livery following their split with flyBe with this Saab 340 freighter being the first repainted aircraft.
Photo by: Edward van Altena (Date: 20.04.2017)
Airline: Transavia [PH-HSF]
Type: Boeing 737-800
Airport: Netherlands, Amsterdam, Schiphol (AMS)
Comment: Die diesjährige Lackierung des Transavia Partners Sunweb ist etwas minimaler wie in den Vorjahren gehalten. / This year's livery of Transavia partner Sunweb is more minimal than in previous years.
Photo by: Bradley Bygrave (Date: 20.04.2017)
Airline: Red Wings [2-TBXU]
Type: Airbus A321-200
Airport: , United Kingdom, Norwich (NWI) ()
Comment: Die russische Red Wings steht vor der Übernahme eines ersten Airbus A321-200, der in Norwich lackiert wurde. / Russian Red Wings is about to take delivery of a first Airbus A321-200 which was painted at Norwich.