Photo by: Alejandro León Hernández. (Date: 13.04.2018)
Airline: Silver Airways [N400SV]
Type: ATR 42
Airport: Spain, Las Palmas (LPA)
Comment: Mit der Übernahme ihrer ersten ATR 42-600 hat der bisherige Saab 349 Betreiber Silver Airways sein Auftreten gänzlich überarbeitet. / With the delivery of its first ATR 42-500, previous Saab 349 operator Silver Airways has completely revised its appearance.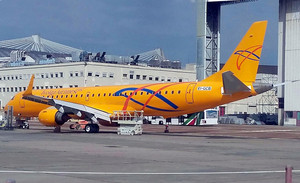 Photo by: Romaspotters (Date: 09.04.2018)
Airline: Ivolga Airlines [EI-GCB]
Type: Embraer ERJ-190
Airport: , (FCI)
Comment: Die neueste Embraer 190 der Saratov Airlines aus zweiter Hand hat nach der kürzlichen Umbenennung in Ivolga Airlines noch vor der Übernahme entsprechende Titel erhalten. / The latest Saratov Airlines' second-hand Embraer 190 has received prior acceptance Ivolga Airlines titles following its recent name-change.
Photo by: Mark Remmel (Date: 07.04.2018)
Airline: Ikar Airlines [VP-BPY]
Type: Boeing 737-800
Airport: Netherlands, Maastricht (MST)
Comment: Ikar Airlines hat eine zweite Boeing 737-800 in Maastricht mit den Farben ihres Reiseveranstalterpartner Pegas Fly versehen. / Ikar Airlines applied to a second Boeing 737-800at Maastricht the livery of its tour operator partner Pegas Fly.
Photo by: Lee Collins (Date: 09.04.2018)
Airline: Condor [OE-IGE / D-ATCD]
Type: Airbus A321-200
Airport: United Kingdom, Manchester (MAN)
Comment: Dieser von AB Aviation für Condor betriebenen Airbus A321-200 hat in Manchester vor ihrem Ersteinsatz I Love Sentido Titel, einer ihrer Hotelpartner , erhalten. / Prior introduction to service this Condor Airbus A321-200, to be operated by AB Aviation, has received in Manchester I Love Sentido Title, one of their hotel partners.