Photo by: Sierra Aviation Photography (Date: 10.06.2018)
Airline: Tunisair [TS-IMP]
Type: Airbus A320-200
Airport: Germany, Frankfurt/Main (FRA)
Comment: Tunisair hat diesen Airbus A320-200 zur kommenden FIFA WM in Russland mit einer Sonderlackierung für die Carthage Eagles versehen. / Tunisair has applied to this Airbus A320-200 special decals on behalf of the Carthage Eagles taking part in the upcoming FIFA World Cup in Russia.
Photo by: Mark Connett (Date: 09.06.2018)
Airline: Icelandair [TF-ISX]
Type: Boeing 757-300
Airport: , United Kingdom, Norwich (NWI) ()
Comment: Die zweite und frühere Arkia Boeing 757-300 wurde anlässlich des 100-jährigen Unabhängigkeitsjubiläums des Landes am kommenden 1. Dezember mit einer Sonderlackierung auf Basis der Nationalflaggeversehen. / Icelandair´s second and former Arkia Boeing 757-300 has been painted with the National Flag scheme to commemorate the country's independence centenary on December 1st.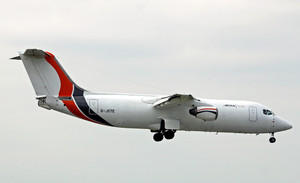 Photo by: Simon Murdoch (Date: 08.06.2018)
Airline: Jota Aviation [G-JOTE]
Type: BAe 146
Airport: , (EN)
Comment: Jota Aviation hat einen ersten BAe 146-300QT Frachter mit ihren Farben und kleinen Cargo Titeln versehen. / Jota Aviation has applied to first BAe 146-300QT freighter its full livery plus small cargo titles.
Photo by: Enzo Cattania (Date: 07.06.2018)
Airline: Nepal Airlines [F-WWCT/9N-ALY]
Type: Airbus A330-200
Airport: , France, Chateauroux (CHR) ()
Comment: Nepal Airlines, Nachfolger der Royal Nepal Airlines, steht vor der Übernahme des ersten von zwei Airbus A330-200, die von HiFly bereederrt werden. / Nepal Airlines, successor of Royal Nepal Airlines is shortly taking delivery of the first of two ordered Airbus A330-200s, to be operated by HiFly.