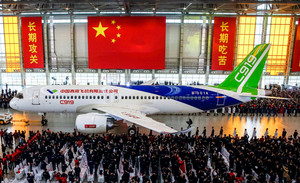 Photo by: press (Date: 02.11.2015)
Airline: COMAC [B-001A]
Type: COMAC C919
Airport: , (PVG)
Comment: COMAC (Commercial Aircraft Corporation of China) feierte am2.Novembe den Roll-Out des ersten C919 und bereitet erste Testfl├╝ge ab ihrem Werk in Shanghai f├╝r das dritte Quartal 2016 vor. Derzeit stehen bei 517 Bestellungen und Vorvertr├Ąge von 21 Kunden aus dem In- und Ausland in den B├╝chern, darunter 7 inl├Ąndische Fluggesellschaften, zwei ausl├Ąndischen Fluglinien und 12 Leasinggesellschaften. / COMAC (Commercial Aircraft Corporation of China) has rolled out its first C919 narrow-body airliner from the final assembly line on November 2nd and has plans its first test flight from the Shanghai assembly center around the third quarter of 2016. Up to date, COMAC has secured 517 orders and commitments for the aircraft from 21 customers at home and abroad, including 7 domestic airlines, two overseas airlines and 12 aircraft leasing firms.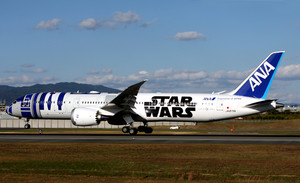 Photo by: Shingo Takahashi (Date: 31.10.2015)
Airline: ANA All Nippon [JA873A]
Type: Boeing 787-900
Airport: , (ITM)
Comment: ANA All Nippon setzt ihren k├╝rzlich ├╝bernommenen Dreamliner in R2-D2 Star Wars Farben als Teil eines Abkommens mit Walt Disney (Japan) in K├╝rze auch auf ihrem Internationalen Streckennetz ein. / ANA All Nippon will use its recently delivered Dreamliner in R2-D2 Star Wars livery as a part of an agreement with Walt Disney (Japan) shortly as well on its international route network.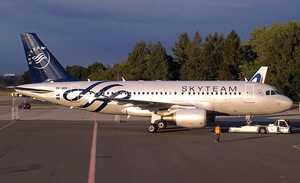 Photo by: Jan Jurečka (Date: 21.09.2015)
Airline: CSA Czech Airlines [OK-OER]
Type: Airbus A319-100
Airport: , (OSR)
Comment: CSA Czech Airlines wird on K├╝rze zwei Airbus A319 f├╝r Saudia in SkyTeam Farben betreiben, als zweite Maschine wird derzeit die OK-PET lackiert. / CSA Czech Airlines will operate shortly two Airbus A319s on behalf of Saudia in SkyTeam livery, with the second, OK-PET, being currently painted.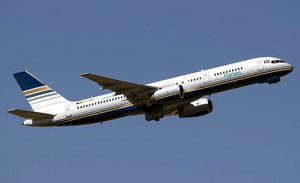 Photo by: Diego Ruiz de Vargas (Date: 22.0.2015)
Airline: Privilege Style [EC-HDS]
Type: Privilege Style
Airport: , (MAS)
Comment: Privilege Style vermietet ihre zweite Boeing 757-200 w├Ąhrend des Hadsch an die saudi-arabische flyNas. / Privilege Style has wet-leased itÔÇÖs second Boeing 757-200 during the Hajj to Saudi flyNas.