Photo by: Ola Carlsson (Date: 10.06.2016)
Airline: Nordica [ES-ACF]
Type: Canadair CRJ700
Airport: Sweden, Stockholm, Arlanda (ARN)
Comment: Nordica hat ihre beiden Canadair CRJ700 mit den aktuellen Farben versehen, die zumeist ab Arlanda für NextJet zum Einsatz kommen. / Both Nordica Canadair CRJ 700s have received the current scheme with both being mainly operated from Arlanda on behalf of NextJet.
Photo by: Robert Kolek (Date: 10.06.2016)
Airline: Slovak Government Flight Service [OM-BYA]
Type: Airbus A319-100
Airport: , Czech Republic, Ostrava (OSR) ()
Comment: Die Regierungsflugstaffel der Slowakei als letzter Betreiber von sowjetischen Flugzeugmustern in Westeuropa ersetzt ihre Tupolev 154 und zwei Yak 40 rechtzeitig zur Übernahme der sechsmonatigen EU-Ratspräsidentschaft zum 1. Juli durch einen Airbus A319ACJ und zwei Fokker 100. / The Slovak Government Flight Service as last operator of Soviet aircraft types in Western Europe is replacing its single Tupolev 154 and its two Yak 40s by an Airbus A319ACJ and two Fokker 100s in time to the takeover of the six-month EU presidency on July 1st.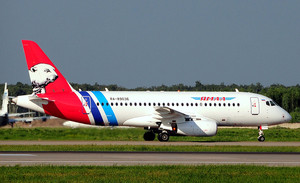 Photo by: Cédric Soltys (Date: 03.06.2016)
Airline: Yamal Airlines [RA-89036]
Type: Sukhoi RRJ95
Airport: , (DME)
Comment: Yamal Airlines hat die ersten drei von fünfzehn geplanten Sukhoi SuperJets in Dienst gestellt. / Yamal Airlines has introduced the first three of fifteen planned Sukhoi Super jet to its fleet.
Photo by: Romain Salerno (Date: 08.06.2016)
Airline: Ethiopian Airlines [F-WZGM / ET-ATQ ]
Type: Airbus A350-900
Airport: France, Toulouse (TLS)
Comment: Ethiopian Airlines wird der erste Airbus A350 Betreiber des afrikanischen Kontinents sein. / Ethiopian Airlines will be the first Airbus A350 operator on the African continent.