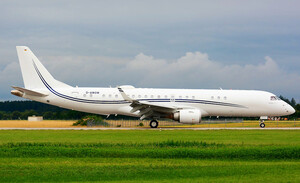 Photo by: M.L. (Date: 07.07.2021)
Airline: Air Hamburg [D-AWOW]
Type: Embraer ERJ-190
Airport: , Germany, Oberpfaffenhofen (OBF) ()
Comment: Air Hamburg hat die erste von zwei Embraer Lineage ├╝bernommen, der nach dem Lackieren in Bydgoszcz f├╝r EASA Modifikationen nach Oberpfaffenhofen ├╝berstellt wurde. / Air Hamburg accepted the first of two Embraer Lineage, which was ferried to Oberpfaffenhofen for EASA modifications after painting in Bydgoszcz.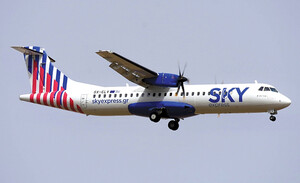 Photo by: Alex Maras (Date: 01.07.2021)
Airline: Sky Express [SX-ELV]
Type: ATR 72
Airport: Greece, Athen (ATH)
Comment: Sky Express hat eine erste fabrikneue ATR 72-600 ├╝bernommen, die in der attraktiven Lackierung der A320neo Flotte eingesetzt wird. / Sky Express has taken delivery of a first brand new ATR 72-600 wearing the attractive livery of their A320neo fleet.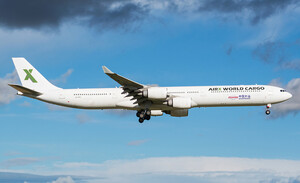 Photo by: Enzo Cattania (Date: 29.06.2021)
Airline: Air X Charter [9H-FFC]
Type: Airbus A340-600
Airport: , France, Chateauroux (CHR) ()
Comment: Air X Charter wird ihre beiden Airbus A340-600 zwischen China und Europa in Zusammenarbeit mit dem Logistikunternehmen Sinotrans einsetzen. / Air X Charter will operate its two Airbus A340-600s between China and Europe in cooperation with logistics company Sinotrans.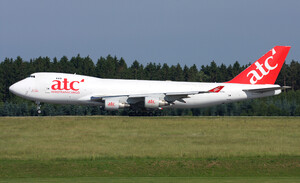 Photo by: Frederik Neeb (Date: 28.06.2021)
Airline: AeroTransCargo [ER-BBJ]
Type: Boeing 747-400
Airport: , Germany, Hahn (HHN) ()
Comment: Ein zweiter AeroTransCargo Boeing 747-400 Frachter hat jetzt die vollen Farben erhalten, darunter vergr├Â├čerte Titel auf dem Rumpf. / A second AeroTransCargo Boeing 747-400 freighter has been painted into the full livery, including enlarged titles on the fuselage.