Photo by: Stephen Blood (Date: 09.01.2019)
Airline: Loganair [G-SAJC]
Type: Embraer ERJ-145
Airport: United Kingdom, Derby ( East Midlands ) (EMA)
Comment: Loganair hat in Erg├Ąnzung einer Embraer 135 wie geplant jetzt auch eine l├Ąngere Embraer 145 von bmi Regional ├╝bernommen. / Loganair acquired in addition to an Embraer 135 as planned now as well a longer Embraer 145 from bmi Regional.
Photo by: Serge Braun (Date: 04.01.2019)
Airline: Cargolux [LX-ECV]
Type: Boeing 747-400
Airport: Luxemburg, Luxemburg (LUX)
Comment: Das Sea Life Trust Beluga Whale Sanctuary als Partner der Whale and Dolphin Conservation (WDC) wird im Fr├╝hjahr mit Unterst├╝tzung der Cargolux zwei weibliche, derzeit in Changfeng Ocean World in Shanghai, China befindliche Belugawale, Little Grey und Little White in ihr neues Reservat in einer nat├╝rlichen Bucht vor der Insel Heimaey vor der K├╝ste S├╝dislands bringen, zu dem auch ein Besucherzentrum geh├Âren wird. / Created in partnership with Whale and Dolphin Conservation (WDC), the Sea Life Trust Beluga Whale Sanctuary will bring in spring with the assistance of Cargolux two female beluga whales, Little Grey and Little White, currently located at Changfeng Ocean World in Shanghai, China, to a large sanctuary in a natural bay at Heimaey Island, located off the coast of southern Iceland which will include visitor centre facilities.
Photo by: Václav Kudela (Date: 01.01.2019)
Airline: CSA Czech Airlines [OK-NEP]
Type: Airbus A319-100
Airport: Czech Republic, Prague (PRG)
Comment: Der CSA A319-100 in der Prager Werbelackierung hat kleine Eurowings Titel vor der langfristigen Vermietung erhalten. / The CSA A319-100 in the Prague promotion scheme received small Eurowings titles prior the long-term wet-lease.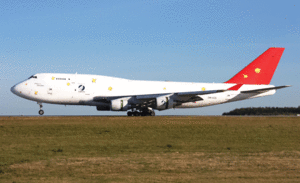 Photo by: Frederik Neeb (Date: 29.09.2018)
Airline: Air Cargo Global [OM-ACG]
Type: Boeing 747-400
Airport: , (HHN)
Comment: Air Cargo Global ist nach einer rund dreimonatigen Unterbrechung mit zwei ihrer drei Boeing 747-400 Frachter wieder an den Start gegangen. Diese, versehen mit Sternen und Planten und dem Namen Prinzess Kristina ab Hahn, Mailand und Budapest in Zusammenarbeit mit Aquiline International auf Uml├Ąufen der Silkway Airlines zum Einsatz, ein anderer der beiden zeitweise in Sharjah abgestellten von dort nach Kandahār in Afghanistan. / Air Cargo Global has returned two of its three Boeing 747-400 freighters after a three months break back into service. This one, now showing stars and planets has been named Princess Kristina since and is used from Hahn, Milan and Budapest in cooperation with Aquiline International on Silkway Airlines rotations, while one the two aircraft temporarily parked in Sharjah has received a contract from there to Kandahar in Afghanistan.