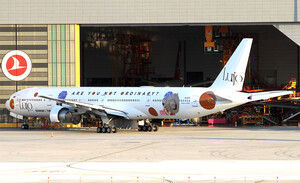 Photo by: Ilgaz Deger (Date: 17.08.2021)
Airline: Azur Air [VQ-BTK]
Type: Boeing 777-300
Airport: , Turkey, Istanbul Sabiha G├Âk├žen (SAW) ()
Comment: Die Boeing 757-200 der Azur Air in schwarzer Grundlackierung als Werbetr├Ąge f├╝r den Lujo Hotel Komplex im t├╝rkischen Bodrum erh├Ąlt in K├╝rze mit dieser Boeing 777-300 einen gro├čen Bruder in Wei├č. / Azur Air's Boeing 757-200 in black base paint as an advertising medium for the Lujo Hotel Complex in Bodrum, Turkey, will soon have a big brother in white with this Boeing 777-300.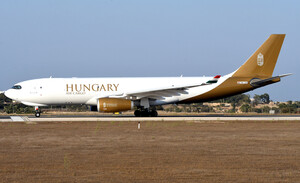 Photo by: Joseph Borg (Date: 16.07.2021)
Airline: Private [HA-LHU]
Type: Airbus A330-200
Airport: Malta, Luqa (MLA)
Comment: Auf dem von Wizz Air f├╝r die ungarische Regierung betriebene A330-200 Frachter wurden die bisherigen Qatar Airways Farben in Malta mit einer Hungary Air Cargo Lackierung ersetzt. / On the A330-200 freighter operated by Wizz Air for the Hungarian government the previous Qatar Airways colours have been replaced in Malta by a Hungary Air Cargo scheme.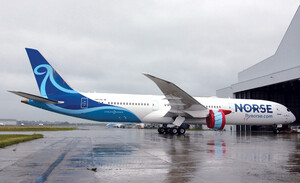 Photo by: Malcolm Nason (Date: 14.08.2021)
Airline: Norse Atlantic Airways [LN-LNO]
Type: Boeing 787-900
Airport: Ireland, Shannon ( Limerick ) (SNN)
Comment: Die erste von 12 geplanten Boeing 787-9 und drei -8 aus Best├Ąnden der Norwegian Gruppe hat in Shannon die Farben der Norse Atlantic Airways erhalten, die ab November in die Fu├čstapfen ihres Vorg├Ąngers auf der Langstrecke steigen m├Âchte. / The first of 12 planned Boeing 787-9s and three -8s from Norwegian Group┬┤s assets have been painted at Shannon with the Norse Atlantic Airways scheme, preparing to jump in the footsteps of its predecessor on long-haul routes from November.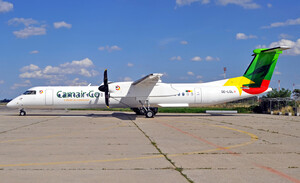 Photo by: Peter Pšenica (Date: 11.08.2021)
Airline: Camair-Co [OE-LGL]
Type: De Havilland Dash 8-400
Airport: Slovakia, Bratislava (BTS)
Comment: Camair-Co bedient sich aus dem Fundus von Regional One und ├╝bernimmt in K├╝rze diese Austrian Airlines Dash 8-400. / Camair-Co has selected from the former Austrian Airlines Dash 8-400 pool of Regional One initially one aircraft.