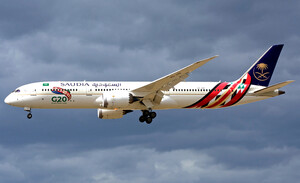 Photo by: Christian Egger (Date: 26.08.2020)
Airline: Saudi Arabian Airlines [HZ-ARF]
Type: Boeing 787-900
Airport: Germany, Frankfurt/Main (FRA)
Comment: Saudi Arabian Airlines hat eine Reihe Flugzeuge mit Aufklebern zum bevorstehenden G20 Gipfeltreffen in Riad versehen, nach der Boeing 777-300 HZ-AK42 jetzt auch diese Boeing 787-9 wie den Airbus A320 HZ-ASG. / Saudi Arabian Airlines applied decals to a number of aircraft to promote the upcoming G20 summit in Riyadh, after Boeing 777-300 HZ-AK42 as well to this Boeing 787-9 and to the Airbus A320 HZ-ASG.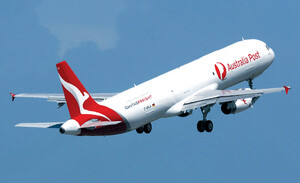 Photo by: Kok Chwee Sim (Date: 30.08.2020)
Airline: Express Freighters Australia [D-ANJA / VH-ULD]
Type: Airbus A321-200
Airport: Singapore, Singapore, Changi (SIN)
Comment: Express Freighters Australia steht vor der ├ťbernahme des weltweit ersten Airbus A321 Frachters, bereits mit Qantas Farben und Titeln der einheimischen Post versehen. / Express Freighters Australia is about to take delivery of the world┬┤s first Airbus A321 freighter, already in the Qantas scheme and with titles from the local post.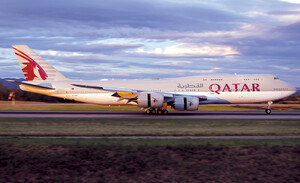 Photo by: Laurent Greder (Date: 25.08.2020)
Airline: Qatar Amiri Flght [A7-HHF]
Type: Boeing 747-8
Airport: Switzerland, Basel (BSL)
Comment: Die Regierung Katars steht vor der ├ťbernahme ihres zweiten Boeing 747-8 Business Jets, nachdem er nach dem Kabineneinbau in Basel in Shannon lackiert wurde. / The Qatar government is about to take delivery of its second Boeing 747-8 Business Jet after it was painted in Shannon following its cabin configuration at Basel.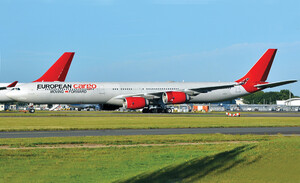 Photo by: John Coates (Date: 21.08.2020)
Airline: European Skybus [G-VFIT]
Type: Airbus A340-600
Airport: , United Kingdom, Bournemouth (BOH) ()
Comment: Die European Aviation Gruppe hat einen dritten Airbus A340-600 als Frachter in Dienst gestellt ein vierter folgt in K├╝rze. / The European Aviation group has put a third Airbus A430-600 into service as a freighter, and a fourth will follow shortly.