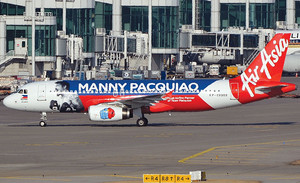 Photo by: Junichi Suzuki (Date: 31.01.2015)
Airline: Zest Air AirAsia [RP-C8988]
Type: Airbus A320-200
Airport: , (ICN)
Comment: Zest Air AirAsia ist neu Partner des Teams um den philippinischen Profiboxer Manny Pacquiao. / Zest Air AirAsia has necome partner of the Filipino world champion boxer team of Manny Pacquiao.
Photo by: Udo Schäfer / auctiontransportation.com (Date: 00.01.2015)
Airline: Aviator [SU-GBJ]
Type: Boeing 737-500
Airport: Egypt, Cairo (CAI)
Comment: Die ägyptische Neugründung Aviator ist mit einer schick bemalten Boeing 737-500 an den Start gegangen. / Egyptian newcomer Aviator has started-up with a nicely painted Boeing 737-500.
Photo by: Robbie Shaw (Date: 25.01.2015)
Airline: Lao Skyway [RDPL-34226]
Type: Avic MA60
Airport: , Laos, Luang Prabang (LPQ) ()
Comment: Lao Skyway hat ihre MA60 bereits zum Winterflugplan mit einer gänzlich neuen Lackieung versehen. / Lao Skyway has applied a completely new scheme to this MA60, in time for the current winter season.
Photo by: Marco Dotti (Date: 31.01.2015)
Airline: Air Berlin [D-ABFO]
Type: Airbus A320-200
Airport: Germany, Hamburg (HAM)
Comment: Air Berlin bewirbt ihr Vielfliegerprogramm neu mit einer Sonderlackierung. / Air Berlin is promoting newly its frequent flier program with special decals.